It was decided that they would fly to Nurnberg via Frankfurt. There was a lot of excitement in the Zaveri family. Regular Boeing 707 flights to various European destinations were advertised by international airlines.  "Going by Boeing" was a popular catch-word. For Chandra this was an occasion of celebrations, excitement, and to be proud of. She was to be the first lady in our family to travel to a foreign country. Ameet was 4 years old. He was also very excited. He was from the third generation of our Zaveri family to go for a historical journey. Their flight plan was to fly by the international flight to Frankfurt by Boeing and change over to a Frankfurt-Nurnberg domestic flight. At Bombay airport special instructions were conveyed through the travel agency to take care of this mother and son during the journey and particularly in the change over. The flight was reaching Frankfurt in the morning. They were to have about two hours stopover at Frankfurt. That flight was a short distance flight for about one hour.
Unfortunately the flight to Frankfurt got delayed. Chandra and Ameet missed their connecting flight. The travel agent "Trade Wings" had given special instructions to look after these passengers. So at the airport they became sort of VIP passengers.
Another bad thing happened. Ameet vomited while coming out of the plane. Chandra's sari got spoiled. She did not have any extra sari in her hand baggage. So Chandra requested the staff person to let her open her baggage. The baggage was booked for Nurnberg. So this can be opened only by custom officer at Nurnberg only. Chandra tried to explain that she must change. But he would not understand. Then Chandra made him smell the sari. Now he understood. He allowed her to open her baggage in his presence. She got a sari from the bag. While doing so she noticed a bottle of "supari". She could not resist the temptation of eating "supari". The officer was watching her. He suspected that she was eating some drug. So he shouted at her. Chandra explained that it was simply betel nut. Then he let go. Then they were asked to wait in the lounge. While waiting in there, Ameet noticed an escalator. He had not seen any escalator before. He was so excited. He forced Chandra to go with him. Going up and down was fun. They spent some time there enjoying free rides up and down.
But now at Nurnberg airport, Arun and I did not find our passengers in the incoming flight from Frankfurt. So we were nervous. We made enquiries about our passengers. The airport authority made enquiries at Frankfurt. At Frankfurt they took some time to locate them. They (mother and son) were enjoying rides on escalators. We were told that the flight from Bombay was delayed. We were given information that a mother with a very young son, from Bombay, missed their flight. Now they are scheduled on the next flight. Our passengers were taken care of at Frankfurt airport. They would board the next flight to Nurnberg. After about another hour they arrived. It was a very emotional meeting. Each one wanted to say many things and wanted to ask and know many things!!.
Hostel Life in Nurnberg
Now that my wife joined me, I was transferred to the married couples' hostel. There was another problem. Children were not allowed to stay in this hostel. They could visit but not stay overnight. They had to go away before 9. pm. We made a plan. We declared that my son Ameet was staying with Dr. Schmidt family. Every night he would leave hostel declaring that he would be away for the night. But after about 10 minutes we would smuggle him back into the hostel. The security personnel never made any issue.
Several trainees from India were always there. There was one couple in our hostel – Mr. and Mrs. Venugopal. Venugopal was working with a huge public sector aluminum plant. There were two others, Anil Shrivastava and Madhav Bhanoo. Both were from the Siemens Bombay office. They were in the bachelors' hostel. We soon became a close group of friends. Mrs. Venugopal was a medical doctor. She did not know cooking. So Chandra was in great demand for food. All the friends would request her for cooked meals in the evening. In bargain they would do all the preparatory work, cleaning all utensils and help doing any work she wanted to be done.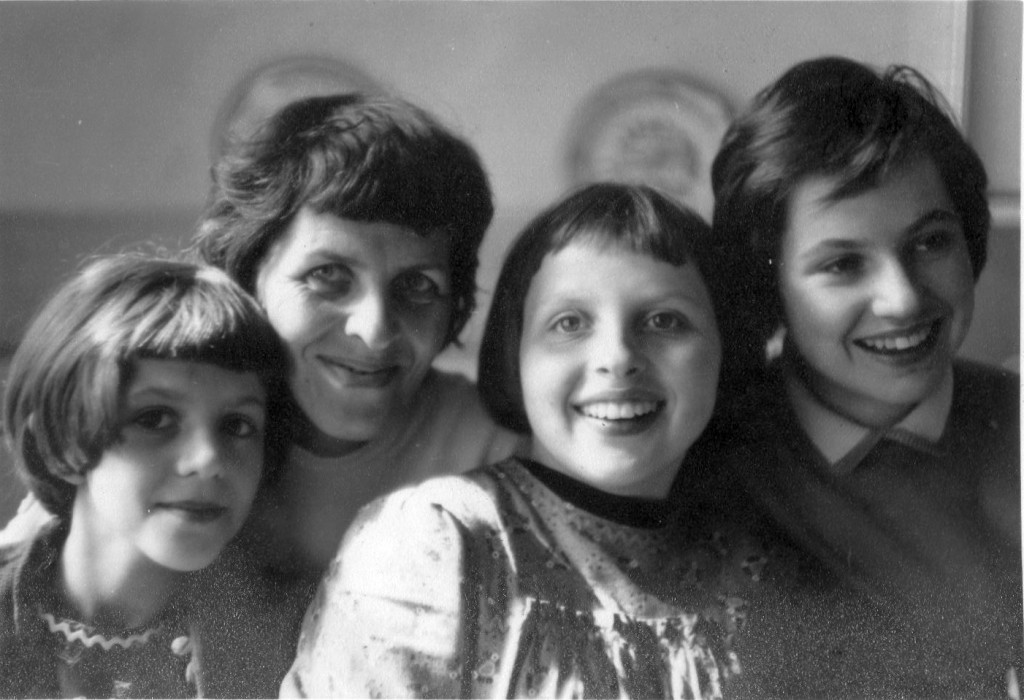 Dr. Wulfo Schmidt's residence was at a walking distance. That whole family – Dr. and Mrs. Schmidt and their three daughters Heidi, Marie and Susie – was awaiting the arrival of Chandra and Ameet. There was so much of excitement in the first meeting. Each person wanted to play, to talk, and to hug Ameet exclusively. Each wanted to patronize him. It was decided that each family member would get a certain limited time. They would get their turn age-wise. The youngest Susie would get the first turn and the maximum time, and so on. Even today Susie remembers those days very vividly.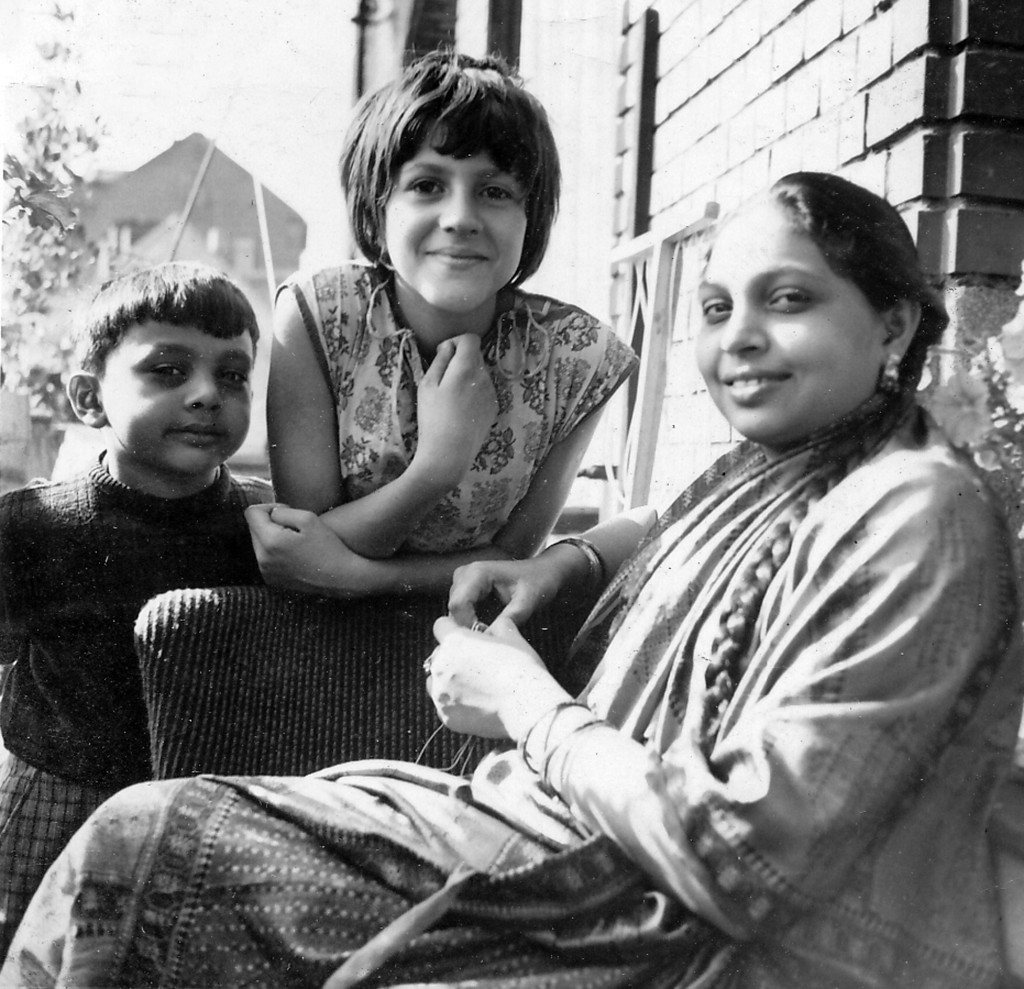 Chandra's first misadventure happened on the second day in Nuremberg. It was decided that the eldest sister Heidi would take Chandra and Ameet for shopping. They went in the morning after breakfast. The shopping area was not very far, on the same street. So they walked down the street. There was a tramway also along the street. They had purchased all the needs of the kitchen. After shopping, they decided to return by tram. They had a lot of bags to carry.  Heidi had some different plan in her mind. She explained to Chandra that she had to go for some urgent work in that area and that they should get down at the third stop. Heidi put them into a tram and went away. Both Ameet and Chandra were enjoying the ride, not knowing what was written in their fate.
Chandra was counting the stops. They got down at the third stop. Unfortunately Heidi did not tell her that there was a traffic signal between the first and the second stop. Chandra counted the traffic signal stop as one of the tram stops!! So they got down one stop earlier. Not seeing the Siemens hostel building at the street corner, she got nervous. With all the bags and Ameet holding her hand very tightly, she started walking along the street. Now she was very frightened. She asked some people about Siemens hostel. But she could not pronounce properly. People could not understand. They could not guide her. Some children were very curious seeing Ameet with dark black eyes and hair. They also started walking along with them. Now it became a group of people. Some dogs started barking. A gentleman who knew about some tourist accommodations guided Chandra there. This was a YMCA hostel. There were some tourists who could converse in English. They understood that Chandra was from India and was searching for Siemens hostel. One of them found out the exact address of the hostel over the phone. He helped Chandra to reach the exact destination. In the evening when I returned home from work I found Chandra in a very depressed mood. When I enquired the reason for the depression, she did not speak for a few minutes. Then she started crying. She was very much frightened. She was also very upset with that girl Heidi. Heidi was a teenage girl and still a bit childish. But the youngest Susie was very helpful and responsible. She became a very regular visitor to our hostel and a good friend of Ameet.
Mrs. Schmidt was a very learned lady. She could easily converse in English. She would often invite Chandra with Ameet for afternoon tea. She also invited us for lunch and dinner several times. They would take us for long drives, shopping, picnic, and sightseeing in the neighboring cities.
I came to know that many trainees and students were selling their cars at low disposal prices. I started enquiring and found one such car. I purchased a secondhand car for 1100 D.M. This was a Volkswagen Beetle.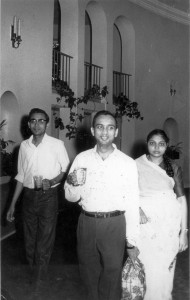 We enjoyed our stay in the hostel. We went for picnics. We visited many neighboring towns.  We did some shopping. We did a lot of sightseeing. One of the towns named Bamberg is famous for beer breweries. There are 70 Churches and 71 breweries in that town!!  Schmidt family was the most adorable blessing for us. Every weekend Arun came to stay with us. One long weekend we decided to go to Munich by car to stay with Arun. The road to Munich was passing by a town called Ingolstadt.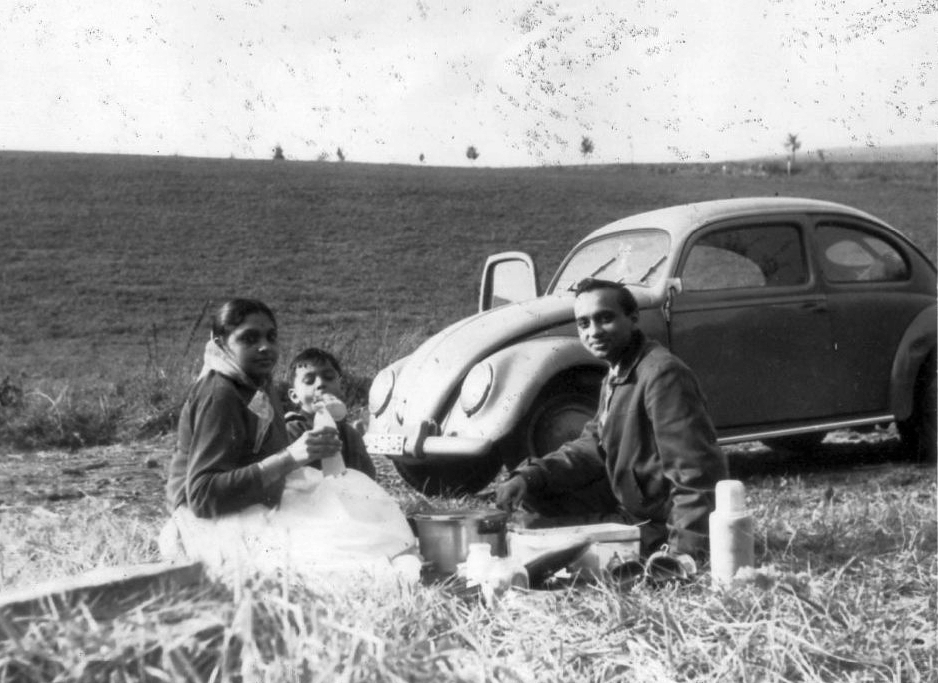 Ingolstadt
I had one more German friend by the name of Karl Ludwig. I had planned to visit Karl Ludwig. He was staying in Ingolstadt, a small town. Karl was a civil engineer. He was working with a German firm on contract basis. He had come to Bombay about a year back. He had met my brother-in-law Dhirajbhai (my wife's brother) in Bombay. Dhirajbhai had brought him to our home several times. He had invited me to come to his town Ingolstadt, whenever I could visit Germany.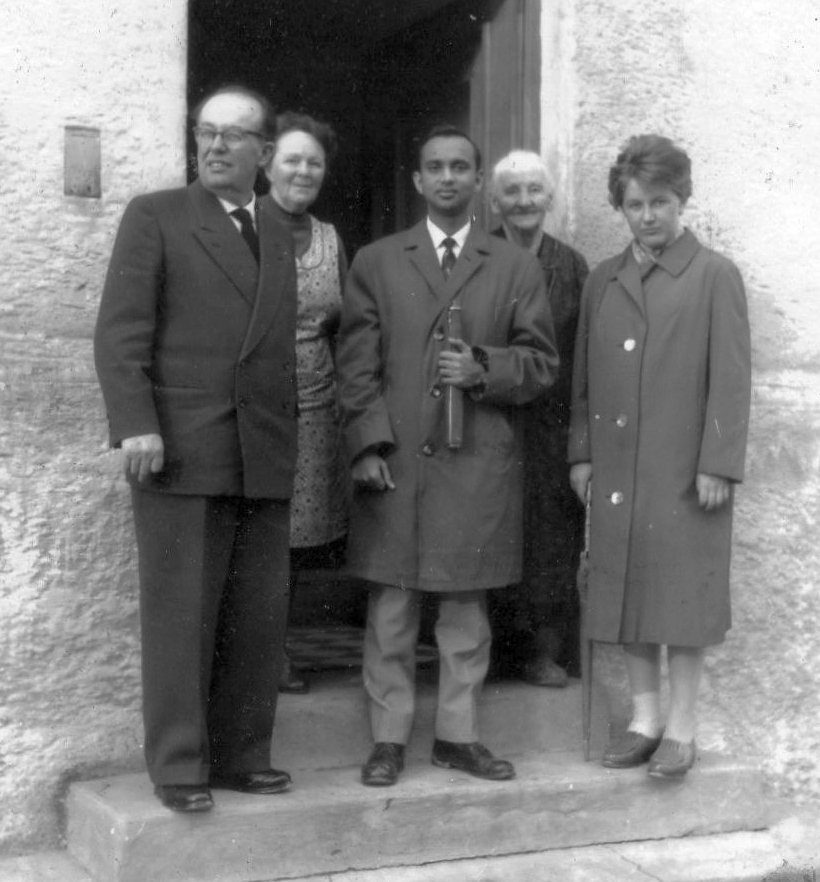 He was staying with his in-laws. He, being a civil engineer, was building his own house by himself. He had completed all the masonry work. Now he was doing plumbing work. Then he would do all the electrical work and so on. He was doing all the work by himself. Sometimes he would hire a helper. He had estimated to complete the job in the next two months. His father-in-law's house was big. His wife was pregnant at that time and so they were staying with her parents. His parents were living in a smaller house, not far.
He had given me his tel. no. and address. I contacted him on telephone and gave him details of my program in Germany. I mentioned that I, with my family, would be traveling by car from Nuremberg to Munich. He was very thrilled and excited. He invited me with my family to stay with them for the weekend. He also informed me that he had become a proud father of a son, just ten days back.
We had started quite early in the morning. On the autobahn it took only one and a half hours to reach his place. Ingolstadt is a very small town. He and his wife welcomed us very warmly. Chandra had bought some gifts for them. Particularly she had purchased clothes for the baby. They were very happy to receive these gifts as a token of love and friendship. It was decided that Chandra would cook Indian food. So both the ladies went to the market to purchase vegetables, breads etc. We ate Indian style food and than rested. It was unbelievable to watch Frau Ludwig doing the entire household and kitchen work. She was just back from hospital.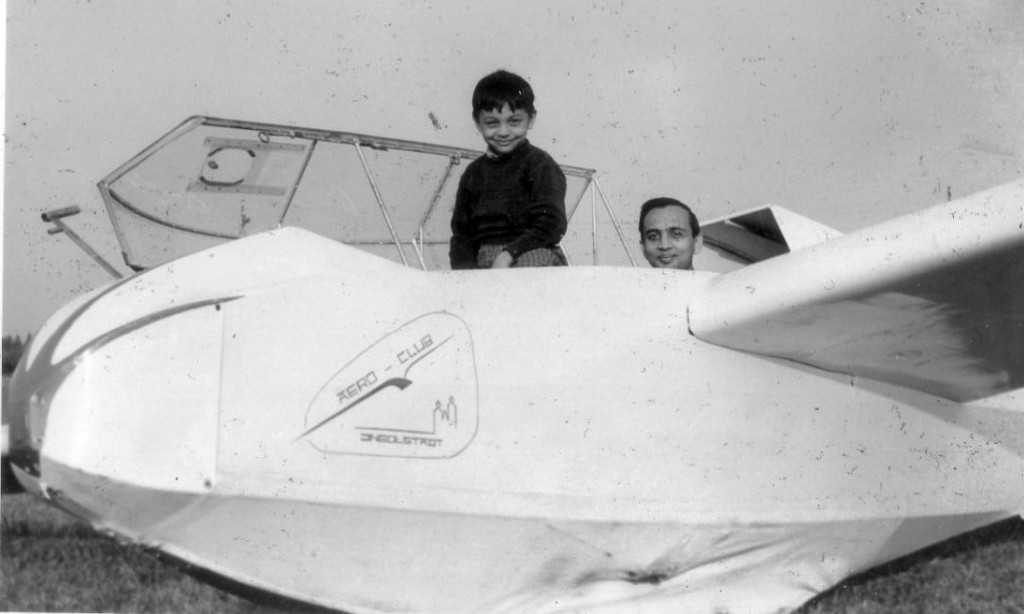 After a good rest we had tea/coffee. Then Ludwig took us to his flying club. They have a big open ground. They have a few gliders. These are small gliding planes without any engine. The glider is tied with a rope behind a jeep. The rope is a big long strong wire rope. The jeep runs very fast on the runway pulling the glider. With increasing speed the glider slowly takes off. There is an arrangement to release the rope from inside the cockpit. There are instruments in the cockpit to show speed, altitude, temperature of the air, speed and direction of the wind, etc. With these parameters the pilot flies and controls the glider. If the weather is favorable, he can remain flying for about half an hour. The sitting arrangement is just enough for two persons only, the pilot and a passenger one behind the other. Ludwig took each of us in turns. Each of us had more than 15 minutes of an extraordinary, mind-blowing, awesome flying experience. It was pure joy, thrill and excitement. Ameet enjoyed the most. He was not afraid of sitting alone in the passenger seat. He became popular among the club members. We went home after participating in an adventurous and thrilling sport. We had a light dinner of sandwiches biscuits, etc. Then we left for Munich.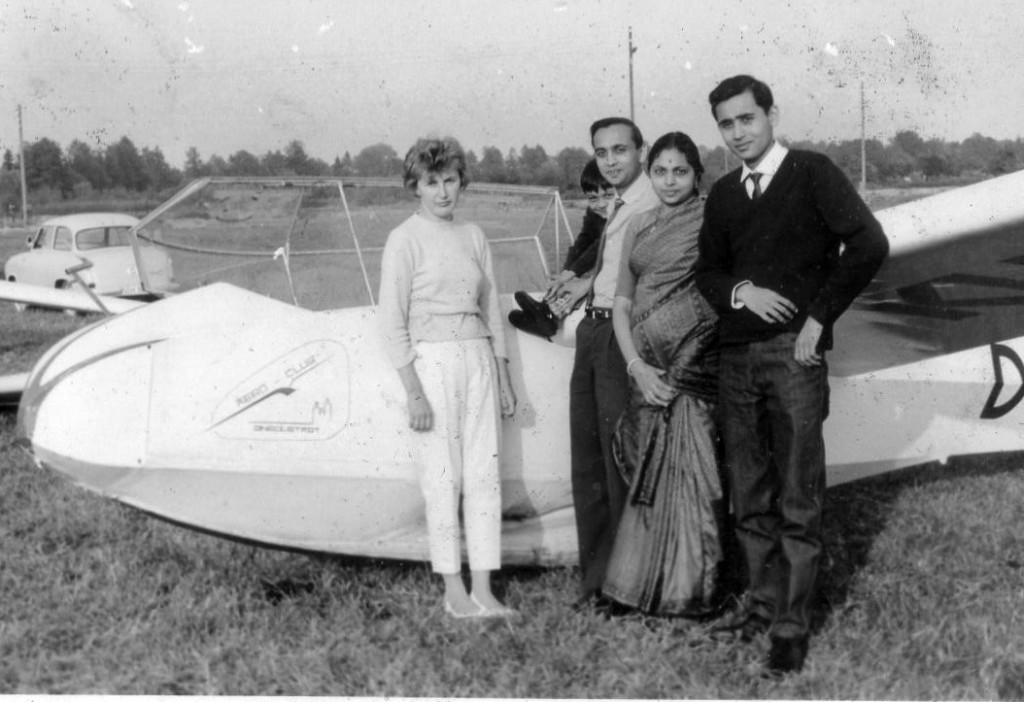 In Munich, Arun was staying with a German family as a paying guest. The family had gone out of station for the weekend. So we could use the flat freely. While talking about the flat owner family, Arun told us that the owners were not married. They had two children. But now, they were seriously planning to get married!!
We rested very well that Saturday night.  Next day we had planned for "Munich Darshan". Having one's own car was a boon. Munich is a very beautiful ancient city. It depicts the European culture and arts very beautifully. We enjoyed sightseeing for the whole day. Sunday night we returned to our Nuremberg hostel.
Bad Neustadt
After completing my training in Trafowerk, I was transferred to Elmowerk for training in the electric motor factory. These Siemens motor factories are built in this very small town. The town name is Bad Neustadt an der Saale. It is on the bank of the river Saale. The population of the town might have been about 2000. But the number of persons employed in these factories was about 1200. The workers were staying in the surrounding villages. Factory buses were collecting them from their residences. Siemens had some arrangement with local families to accommodate trainees and other visitors as paying guests.
I, with my wife and son, was given an accommodation with an old lady. She had a two level house. She also owned a small "kino" – a small cinema theater in the same compound. She was living there with her son (about 40 years old) and her daughter-in-law. They were not even on talking terms with her. The son was a drunkard. He used to drink too much beer and sleep. The old lady by herself alone managed the cinema. She would clean the whole theater, sell the tickets, and run the film. She would do all the tasks necessary to run the cinema house.
The residence house was on two levels. There were two bedrooms, a big living /drawing room with dining area, a kitchen and an underground cellar on the ground floor. There was a guest bedroom with bathroom on the floor above. There was a children's bed big enough to accommodate Ameet. This was given to us. We had to share the kitchen cooking facilities and the dining area with her. The nights were very cold. The old lady had provided us with good blankets. Even then we had to keep the heaters on for the whole night. We were allowed to take full bath only once a week on Sunday.
One Sunday morning Chandra was alone in the cellar washing clothes. The son came there. He was drunk. He was searching for something. He mumbled something to Chandra. Chandra was very much frightened. She was about to scream. But that fellow went away. After that day Chandra never went to the cellar alone. She would ask the old lady or me to accompany her.
Every afternoon Chandra would make tea and offer to the old lady. She appreciated this gesture very much. She complained that her daughter-in law had never made or offered tea to her. The ladies, Chandra and the land lady liked to talk. Language was not a barrier or a problem at all! They learnt fast. They became good friends. The old lady used German, English and French. Chandra used English, German, Gujarati and Hindi. Of course the sign language was the best common language. They would talk, share jokes, become sympathetic to each other and converse about any subject under the sun.
Pani-puri
Chandra being a good cook had brought many ingredients for making pani-puri, bhel-puri, and such food. One afternoon she decided to make pani-puri. She invited the old lady to watch! She arranged all the ingredients on the table. The old lady was looking at all the items on the table. The whole concept of making, preparing, serving and eating pani-puri has no parallel concept in the whole world! Chandra demonstrated by preparing one pani-puri and eating it.  Then she asked the old lady to taste one. She warned the lady that it was very hot. She selected one of the smallest puri. She filled it with masala made of moong, chana, crushed boiled potato. She filled it with "teekha pani". She offered this to the old lady. She warned her again that it could be very hot.
The old lady put that one in her mouth! And … all hell broke loose. She shouted Feuer! Feuer! (Fire!) She jumped on the floor and touched the ceiling! Chandra had kept ice cubes ready for this. She put the ice in the mouth. She calmed down after a couple of minutes. The old lady kept on watching us eating pani-puri.
Zugspitze
One of the trips we made was to Zugspitze, the highest mountain in Germany. We passed through the Bavarian town of Garmisch-Partenkirchen on the border of Germany and Austria.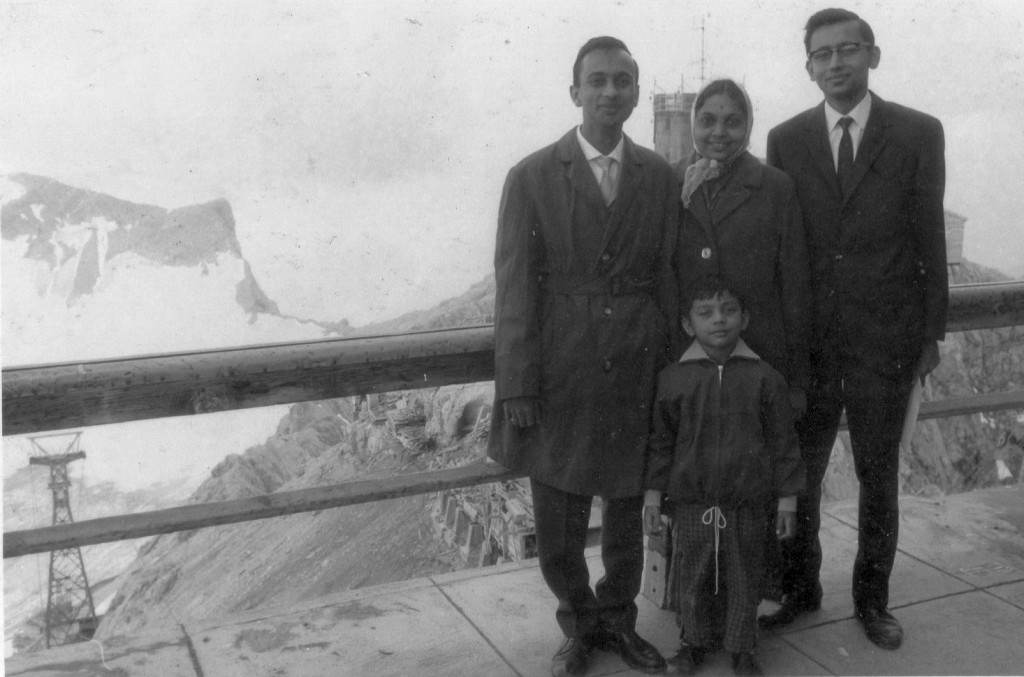 Photographer
Every Saturday afternoon we used to go to market. The market was at the end of the main street. The street ended near a small garden by the river Saale. There were several shops on the main street.  We three would walk down the main street, do some shopping and go to the garden. Ameet played in the garden in the river sand with his toys. One such afternoon, we were walking along the main street. There were very few people on the street. We three were walking and talking. Amongst the shops, there was a photo studio. I heard some one running behind us and shouting "bitte bitte" (please, please). I turned around and saw a young lady who was shouting to us to wait. When she came near, I could see that she was very excited and nervous. She again said "bitte, bitte". So we stopped there. She explained that she was a trainee in the photo studio on the street. She has to submit a photograph as a test. She used to watch us, particularly Chandra for the last few days. She thought that a portrait of an Indian lady would be an ideal subject for her test photo. She had been thinking over this idea for several days. She was hesitant to ask. She wanted to photograph Chandra. She wanted my permission to do so. I replied in affirmative. I said, "I would be very happy if you take my wife's photo. But if charges are very high I cannot pay." She replied that there would be no charges.
So we all four started walking in a small procession and entered the studio. She guided us to the mezzanine floor. Here was a fully equipped real studio. It was equipped with several big and small lights, reflectors, cameras fixed on stands and many such things. She made Chandra sit on a stool. She became very busy doing her work very professionally. She checked Chandra's face from several angles. She checked lights and reflectors from different angles. She had decided to take a portrait photo.  Finally she decided on a certain combination of angle, lights, reflectors, camera, lens, etc. She invited me to have a look through the camera; and give my opinion. I said it looked good. Then, finally she clicked the camera. She told us that photo would be ready next morning.
We left the studio and started walking towards the garden. Just only after a few minutes, I again heard running footsteps. Someone was shouting at us from behind – "bitte, bitte". Turning back we saw the same girl. We stopped. She came near to us. She was very nervous. We wondered, what could have gone wrong? She almost started crying. I told her to calm down and tell me what had happened. She said we would have to go back to the studio. I was a little irritated. I asked "Why?  What happened?" She explained that she had forgotten to load the film in the camera!! Chandra and I laughed like anything. We consoled her. We said it could happen. We would come to the studio again. So we went to the studio again. She did her job properly. Next day we went to the studio to see the result. We met the trainee. She had done a marvelous job. The portrait photograph was beautiful. She gave us one copy of the photo, with her best wishes written on the back. This is the best ever photo of Chandra. She, the trainee scored the highest marks. She also won a prize for the photo.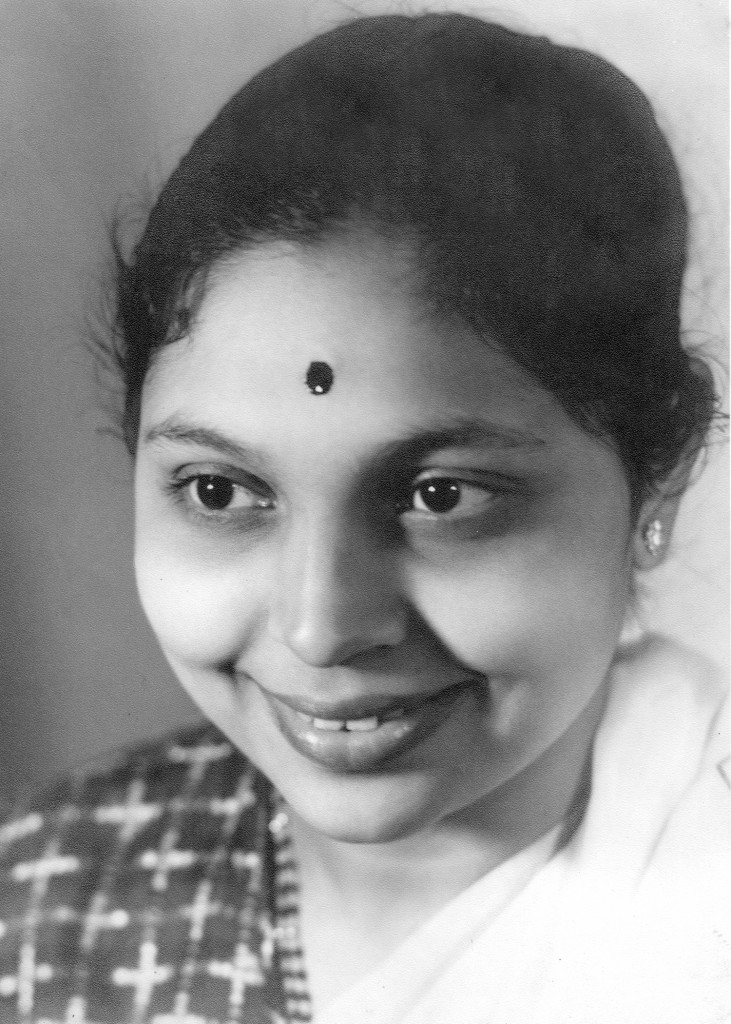 Visit to Berlin
One Sunday morning, we found guests at the breakfast table. The old lady introduced us to each other. They were a family of four; Mr. and Mrs. Braun and two daughters about the age of 14 and 11. They were some relatives of the old lady. They were residents of Berlin. They had gone to Switzerland. On the return journey they took a night stopover in Bad Neustadt. They were very friendly people. Mr. Braun was in the perfumery business. He had his shop and residence in the same building on Kurfürstendamm – one of the most famous streets in the posh area of Berlin. We started talking about Berlin. Mr. Braun explained to me that it was necessary to know and very necessary to understand the position and situation of Berlin.
After the Second World War was over, Germany was divided into West Germany and East Germany. East Germany was under the political and military control of Russia. West Germany was under joint political and military control of UK, USA and France. The city of Berlin was 150 miles deep inside East Germany. The city was divided by a wall across the city into East Berlin and West Berlin. Mr. Braun took out his roadmap. He showed me at which point we should enter / crossover into East Germany. At this border point it was like entering a new country. There was checking of all necessary papers viz. passport, driving license, etc. Here they give Entry Permit papers (permit to enter East Germany). One has to declare destination, purpose of visit, etc. They check the vehicle also. One has to be very vigilant about this Entry Permit. About 100 km. from this entry point into East Germany, there is a cross over road. Here there is entry and exit to the Berliner Ring Road. From here the city of Berlin is less than 20 km.
Mr. Braun was very much excited about our visit. He invited us (four of us) to stay with him in his house. He said staying in a hotel would be very expensive. He took a promise from us. We would visit Berlin before returning to India. He expressed very clearly that he would feel insulted, if we did not! I contacted Arun and told him everything. He was also very much excited to make such a trip. He told me that he would let me know suitable dates considering his classes and lectures, etc. Next day he telephoned and finalized the program for the "trip to Berlin". Arun came to Bad Neustadt on 12th Oct. Friday. We departed on 13th early morning after taking a very heavy breakfast.  Chandra made several food items. Some cooked and some half cooked items that would last for a week. We were informed that there were several vegetarian restaurants in Berlin.
13th Oct. 1961 was the most adventurous day of my life. It was like "Where Eagles Dare". We left home early morning. It was the beginning of winter. The days were getting shorter and nights were getting longer. The sunrise was after 9 a.m. The sunset was before 5 p.m. It was dark and cold. We were well equipped to fight the cold. We had borrowed heavy woollen clothes from the Schmidt family. It was raining in short showers. It was cold and windy. We had to drive slowly. We were in a good mood. Ameet was behaving quite mature. Inside the car it was cozy. We started the journey with reciting some prayers. This is our family tradition. As a family we are travelers. My father liked to travel. He had traveled all over the world. He had traveled through six continents viz. Asia, Europe, Africa, Australia, North America and South America.
We reached the first border-post in the afternoon. The first checking of going out of West Germany was quick and simple. The East German border office was on the opposite side of the road. Here, we got the first shock! They checked our papers. Passport and other papers were in order. They asked for our vaccination certificate. We had forgotten our certificates in Bad Neustadt. We were under the impression that these medical certificates were necessary only while entering into another country. It never occurred to us that we would need them while going into East Germany. So, we were refused entry. We were very disappointed, and with swollen faces got into the car to drive back. There, one of the officers on duty asked why we were returning back instead of proceeding ahead? We explained to him our story of misfortune. He was very cooperative. He advised us that there was a medical center in the nearest village (5 miles away). We could go there, get vaccinated and also get a certificate. We immediately drove to that village. Here we found that the medical officer had gone to a town hospital. The hospital was not far. So, we drove there. There we contacted the medical officer and explained our predicament. He immediately arranged for vaccinating us and gave us the proper certificates. We were happy.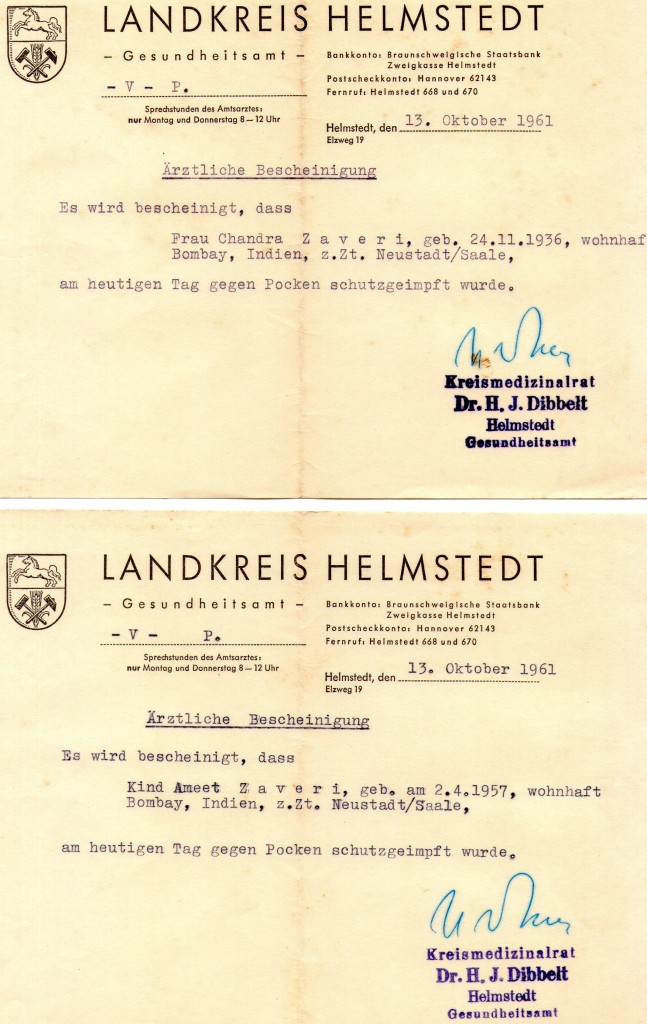 We returned to the East German border post. They knew we would do this. This was a regular happening for them. They were asking many questions about Chandra's dress (sari), her bindi on the forehead. They also liked Ameet's dark black eyes and hair. They very happily gave the permit. They had marked our departure time on the permit papers. We were advised to drive not more than 50 miles per hour. We were also advised not to drive very slow, if we took more time, then they would charge us for espionage. If we reach there earlier they would charge us for speeding.
We stopped twice for food and rest before reaching the border. It was cloudy. There was no rain. It was getting darker and colder. There was no traffic. As time passed we were worried and tense. We were looking for the road sign for Berliner Ring Road. We had our full lights on; so that we could see the road sign. In a few minutes we heard some vehicle coming behind us at full speed. He overtook us. He signaled us to stop. He was a German military officer on a motorbike. We stopped the car. Our breathing stopped! Our heats stopped! He was shouting at us. He was ordering us to do something. We could not understand. He came near the car and shouted "ablehnen". We did not respond. Arun and I were frozen with fear (not by cold). The military officer came very near our car. He again shouted "ablehnen". He opened my car door and he put off the bright full light. Then he realized that we were a family. He calmed down. He explained that we should not keep full bright lights on. In a few minutes a German military convoy would pass through this road. We should drive slowly. We should drive on one side of the road. We should keep only the dim lights on. We should drive only on one side of the road. Giving these instructions he drove away.
In a couple of minutes we saw lights and sound of the military convoy reaching nearer to us. We slowed down and were driving on the edge of the road. In the convoy there were big trucks, several tanks. There were some trucks with big guns fixed on them. There were some carriers with very big cannons. There were trucks loaded with all kinds of ammunition. In about 10-12 minutes the convoy passed away. We were scared out of our wits. We experienced a fear which cannot be described. Those German military personnel in their military uniforms looked like messengers of death. Slowly we were getting back to our senses.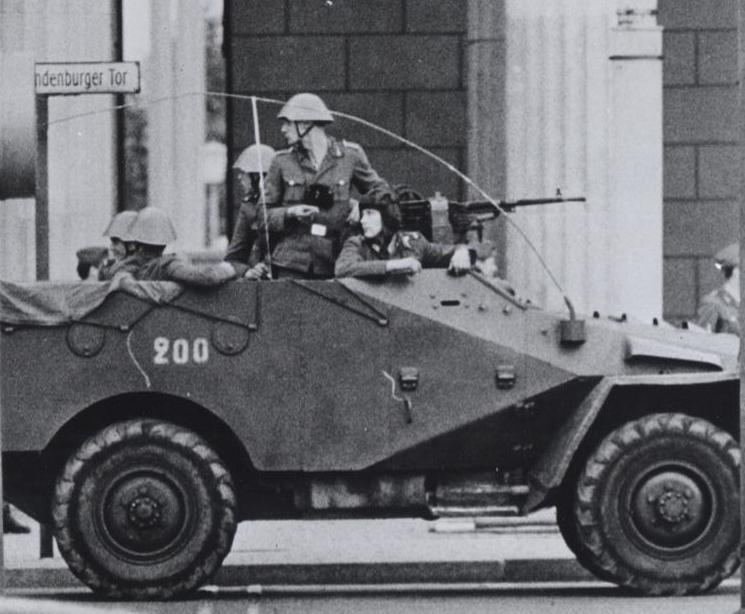 We took an account of all that had happened and assured ourselves that, things were not as bad as we felt. One thing was clear that by now we had missed the turn for the Berliner Ring Road. This could be resolved by taking a U-turn. But a U-turn on the highways was strictly not permitted. Also there was a 2 to 3 feet thick and about 3 feet high hedge in the center of the road, separating the up and down traffic. At this moment Arun spotted a light of some vehicle coming in our direction. We were getting nervous. To our surprise, it was an old private truck. As the vehicle came nearer, the truck driver, an old man slowed down his truck and waved at us. We found this to be a friendly signal. We shouted at him to stop his truck. Both the vehicles stopped. We explained to him our situation. We asked him for his advice.
He was an old farmer. He explained that there were gaps in the hedge. Some part of the hedge dried creating such gaps. He said, he would put on his bright lights and lead the way. We should follow him. When he would see a gap big enough for our Volkswagen (a very small car) to pass through, he would signal us. He would park his truck at an angle. We would see the gap clearly. There we should take a U turn passing through the gap and drive in the opposite direction. He wished us best of luck and mercy of Lord Jesus. He very strongly told us not to mention about this incident to anybody. So as planned, we followed him. In a very short time we could see there were gaps in the hedge. The truck driver noticed one gap large enough. He signaled us to stop. He focused his bright light. We followed his instructions. We crossed over to the other side of the road through the gap. The truck driver, without waiting for even a second drove away very fast. He seemed like an angel in disguise. In another 20 minutes we reached the road crossing with the sign of "Berliner Ring Road". Here we took the correct Berlin Road. In less than 30 mins, we saw lights. We reached the East Germany and West Berlin check-posts.
We entered the East German check-post. We were very much worried about reaching so late to this exit post. How would we explain, reaching there so late. But to our surprise, we found the personnel became very friendly seeing an Indian family. They asked many questions about Chandra's saree, bindi on the forehead, etc. They admired Ameet's dark black hair and eyes. They stamped our papers without asking any questions. In a few minutes we were through the procedure and out. We were out of East Germany. On the opposite side of the road there was the West German Berlin check-post. Here we were welcomed with smiles and greetings. They stamped our papers. They even asked if we need any help. The time was nearing midnight. We requested if we can make a phone call to our host. They most willingly called our host. Our host was anxiously waiting for our news. We informed him that we would reach his residence within half an hour. As it was late in the night the road traffic was not much. We finally reached there with the help of the road map.
They had a small house. They had allotted their bedroom for Chandra and me. Their two daughters' bedroom was given to Arun and Ameet. They treated us like, we say in India, "Atithi devo bhav" (guests are divine). We spent 5 nights in that "palace". The heating system was very good. It was very cozy. It was luxurious!
We rested very well. The next morning, on the breakfast table, we made our plans to see the city of Berlin. We found that there was a Siemens hostel. There were some Indians there. We met them. They took us for lunch to one of the vegetarian restaurants. There were several vegetarian eating places. After the war, USA and Britain decided to make Berlin their stronghold in the midst of East Germany. They wanted to make it a rich capitalist city. They brought in plane loads of domestic goods. A cargo plane landed every ten minutes bringing in clothes, furniture, cars, TVs, air conditioners and white goods. They built new residential colonies. They built new office buildings, luxury hotels, cinema halls, schools, colleges, etc. with all modern amenities. This was all only in West Berlin. We visited the famous Berlin zoo. We spent almost a whole day there. Ameet enjoyed it the most. I still remember the gorilla statue in the entrance. It was so lifelike, that we felt it would walk or speak.
The East was in total contrast. There was not even enough food for the people. Bread, milk, eggs, etc. were given on ration cards! East Berlin was a show of poverty. The Russians wanted to make East Berlin their stronghold. But the economical conditions were very poor. People had to wait in queue for buying their daily ration.
We found that visitors were given entry in certain parts of East Berlin. We arranged to get a visitors permit for going into East Berlin. We went around in our car. We saw big lines of people with children to purchase their daily necessities from Government shops. The total atmosphere was of gloom and poverty. Most of the vehicles were military vehicles. There were very few private cars on the road. The war destruction was not yet cleared. There were debris everywhere. Very few historical monuments had survived the war.
We planned our return on 18th Oct. We enjoyed our five days stay in Berlin. The whole journey was wonderful, simply wonderful. Very few people could be blessed with such unforgettable experiences with so many people from different fields of life:
1) Facing the most feared communist military convoy in total darkness.
2) Making friendship and becoming guests of a perfumery merchant of the famous Kurfürstendamm.
3) Seeing /observing poor people, citizens of Europe awaiting their turn for food.
4) Making friends with stern border police including the one who guides you to a village doctor for vaccination.
5) The doctor who very happily vaccinates and gives certificate.
We experienced many faces of life and humanity in very short time. We reached home (Bad Neustadt) by evening without any problems.