The Steamer Conte Grande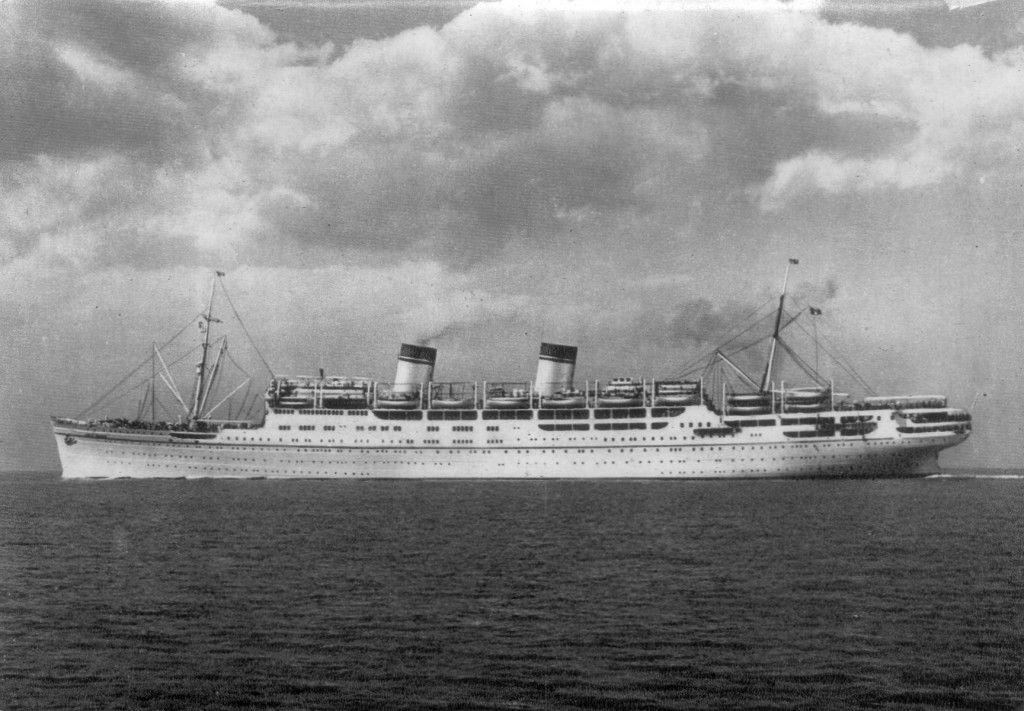 The morning of 3rd Feb. 1961, the D day was full of excitement. The whole family came to see me embarking on this journey aboard the steamer Conte Grande. It was a big steamer. All the cabins of the passengers, all the halls like dining halls, dancing hall, games hall, etc were air-conditioned. We were two passengers in my cabin. My cabin co-passenger was a young Parsee man who was going to UK for higher studies. This steamer came from Australia. A majority of the passengers were Italians. There were some Germans, a few other Europeans and a few Indians. I took a round of the steamer to get familiar with its topography.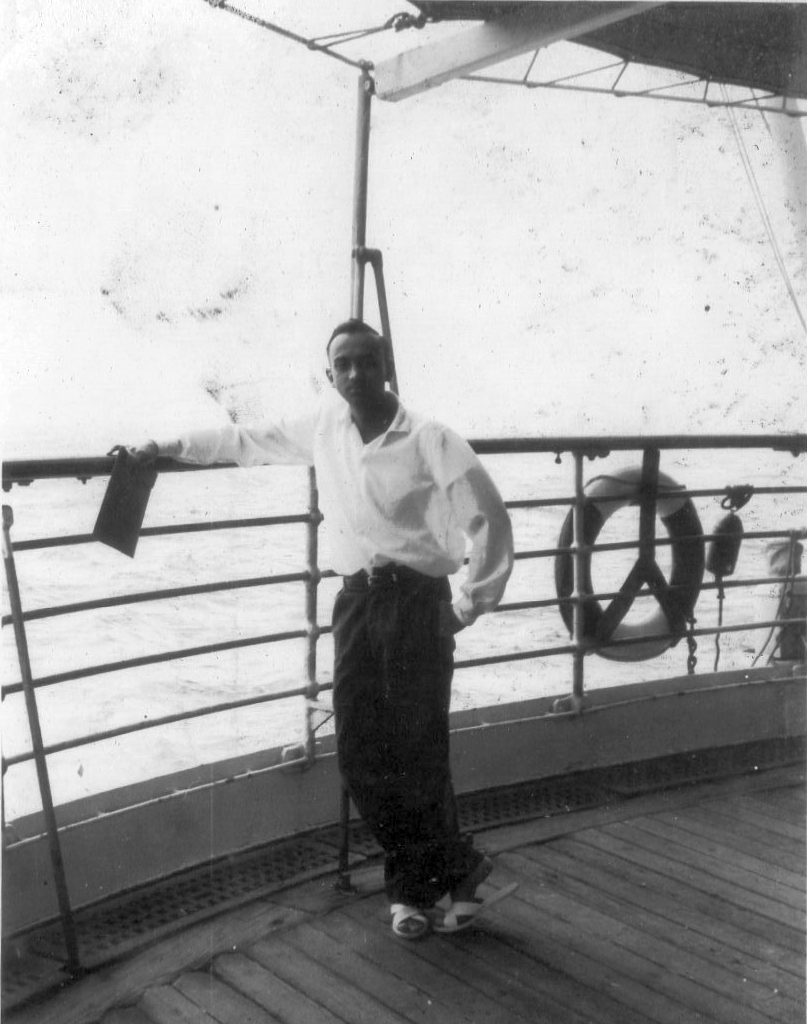 The steamer was no doubt very big. It was on its first voyage from Bombay to Genoa. But, to my utter surprise I came to know that, this was THE LAST voyage of this steamer! The steamer had completed its total duty of its life span. Now it was on its last voyage proceeding towards its graveyard. During its total life time it was plying between Australia and South America! After reaching Genoa it will be scrapped!
Another shock was that the entire crew including waiters spoke Spanish and Italian languages only. They knew only a few words of English and German. All the passengers were assigned a specific chair at a dining table. We were supposed to use that place for all our meals, viz. breakfast, lunch, afternoon tea and dinner.  For the first meal we were all at the table a little early. We were six on my table. We were all trying to understand the menu card. For me it was totally Greek and Latin. I called the waiter by sign language. I wanted to make him understand that I was strictly vegetarian. I, therefore very distinctly, very clearly and very slowly told him. "Me, NO FISH, NO EGGS, NO MEAT!!"  He gave me a totally blank look. His face became very miserable. But, he did not reply. So I repeated my part of the conversation. Now he replied. He said very firmly, repeating what I said, "NO FISH, NO EGGS, NO MEAT!!"  And added, "NO EAT". This was the master stroke.
Many Indian passengers were vegetarian. We all met the purser, the officer who looked after passengers' needs. For him this was a first time problem. But he promised to do his best. He immediately made arrangement for vegetarian food for the first day and every day. The food no doubt was not very tasty, but was palatable.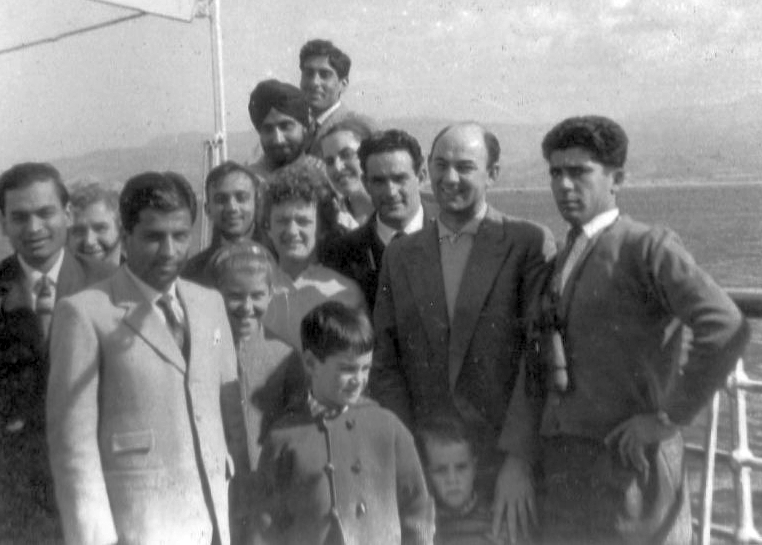 During the next two days I explored the steamer in greater detail. I also made a few friends. There was a German family in the next cabin. They were the Zillers. They were husband, wife and two sons 3 and 5 years old. They were originally Germans. He was a farmer. Now for last 6-7 years they had settled in Australia. He has a big farm there. He was happy and well settled. He knew both English and German languages.
The sea was very calm. Sailing through the sea was very steady. Only when you see the vastness of the sea from the deck, you realize how small the steamer is!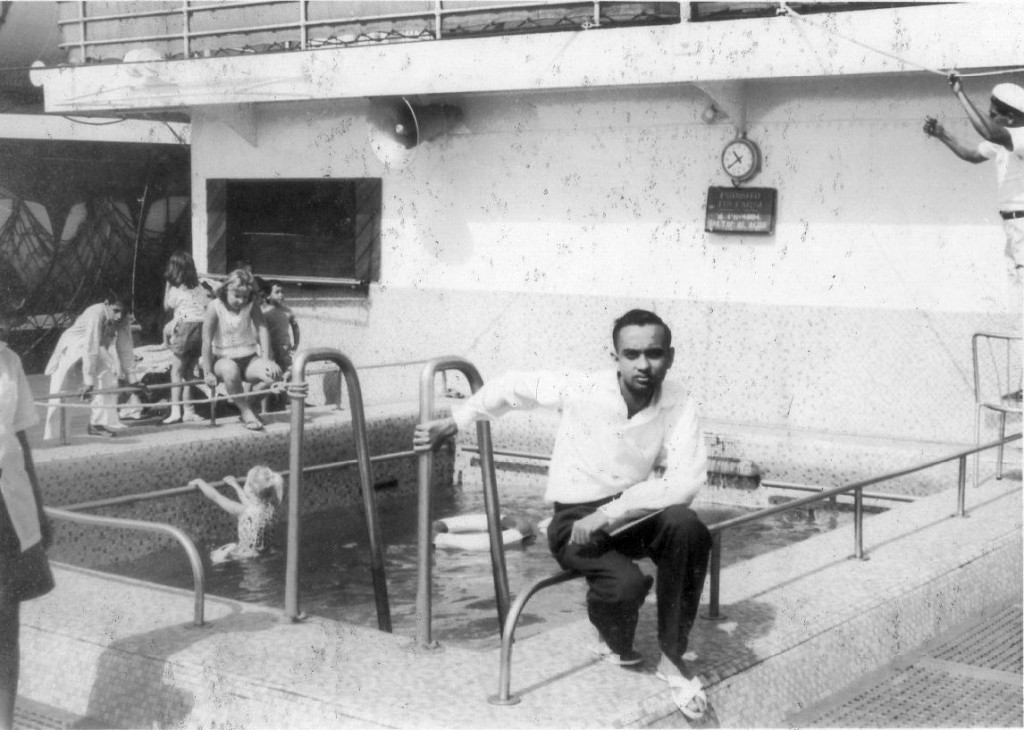 Aden to Cairo
There was an announcement that the next port of call was Aden. We reached there at about 11:00 a.m.  In those days Aden was a big duty-free business center. The purser informed us that there will be some arrangement for the passengers for going to the shore. We were to return within four hours. As the steamer was anchored a little away from the shore, there was a ferry service provided. Aden at that time was developing fast. Many Indian businessmen were  settling there. I knew one who was a relative of my wife's brother. I went to his shop and asked for guidance to do some shopping. I also told him that I would borrow some money from him and pay him later in Bombay. He was very helpful. I bought two shirts and a Favre-Leuba extra thin wrist watch. I went round the market doing window shopping. Whenever one or more steamers came to Aden the prices in the market went up! In the market I met 3 co-passengers. They were looking for some vegetarian eating place. I joined them. We were missing our home food very much. A good-hearted gentleman (bhalo manas) guided us to a Jain temple where simple good veg. food was given free of cost; because that day was a Jain festival day. We blessed that stranger while consuming our lunch.
During the next few days the day temperature would go very high. We were sailing through the Red Sea. Very few people were seen on the decks. We were approaching the Suez Canal. This canal is a wonderful work of modern engineering.  The canal joins the Mediterranean Sea with the Red sea. Before the canal was built, the northernmost tip of Egypt (on the African continent) was connected with the Asian continent by land. Ships and steamers from Europe sailing to India and far-east countries had to go round the whole continent of Africa. This was a very long journey. Instead of several months and days of sailing round Cape of Good Hope, now it took some hours. But here, a strange phenomenon existed. The seas (Red Sea and Mediterranean Sea) had different sea levels. The engineers designed a canal with a system of locks.
There was an announcement. The steamer company had arranged for a land tour, by luxury a.c. bus to go to see the Pyramids and the city of Cairo. This was unbelievable, fantastic, beyond all dreams. This was a chance to see one of the wonders of the world in person. I immediately went to the office of the purser. The cost of the tour was five and a half pounds. This equaled to appx. Rs. 75 only! But to my utter disappointment they refused to accept my travelers' cheques which were negotiable only in Germany. I almost started crying. All my dreams crumbled. Deeply disappointed I went to the lounge. I was thinking about how to solve this problem. And an angel came there! Mr. Ziller, the German farmer came there. He asked me why I was so sad. I explained to him my problem and asked if he was going for the tour. He said he was not going, but he told me that he can lend me that much money. I could return the money in Germany in his bank account when I reach Munich. What a gentleman! This way I saved an invaluable opportunity of my life.
On the morning of 11th Feb.1961 we were in the port of Suez. We were about 65 passengers going for the tour. We were waiting to disembark. There I heard my name on the announcement system. I went to the office wondering what it could be.  Well I had post (letter) from home. This doubled my excitement and happiness.  The letters during the journey were received or posted at the ports.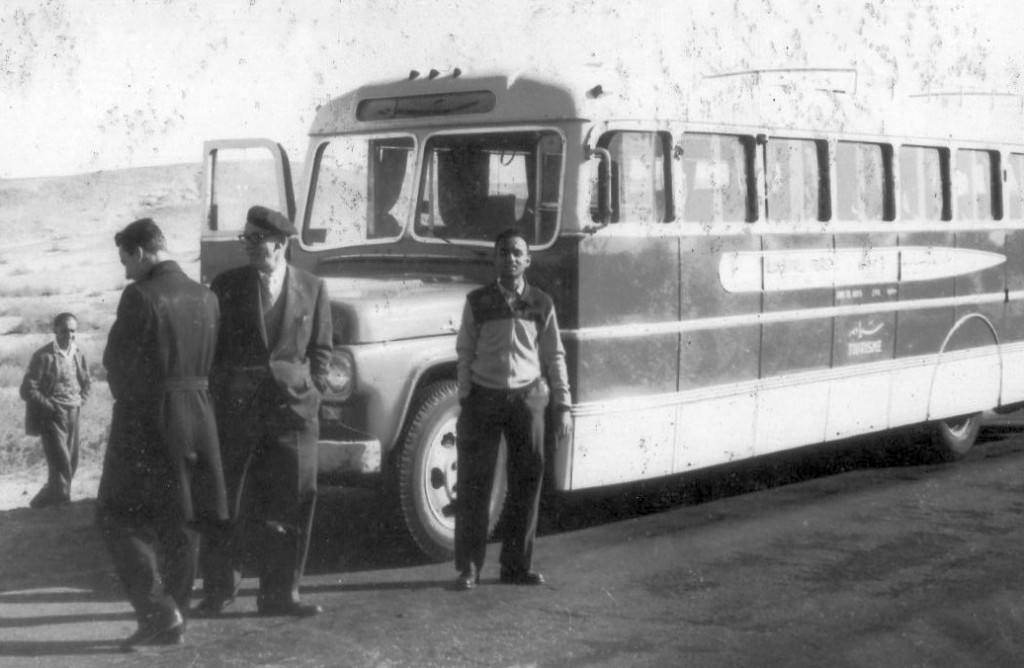 On the shore we saw a beautiful luxury bus waiting for us. On the shore it was very cold. I had put on enough warm clothes and a jerkin (jacket). Cairo is about 90 miles from Suez. It took about 2 hours traveling through the desert of Egypt. The roads were good. At that time Col. Nasser was ruling Egypt. Cairo city was very beautiful and modern; far better than our Mumbai. First we were taken to a seven star hotel, Continental Savoy. This was a very beautiful hotel; much better than any of the Mumbai hotels. Better than the best of them. We had a very sumptuous breakfast. Many vegetarian food items were there.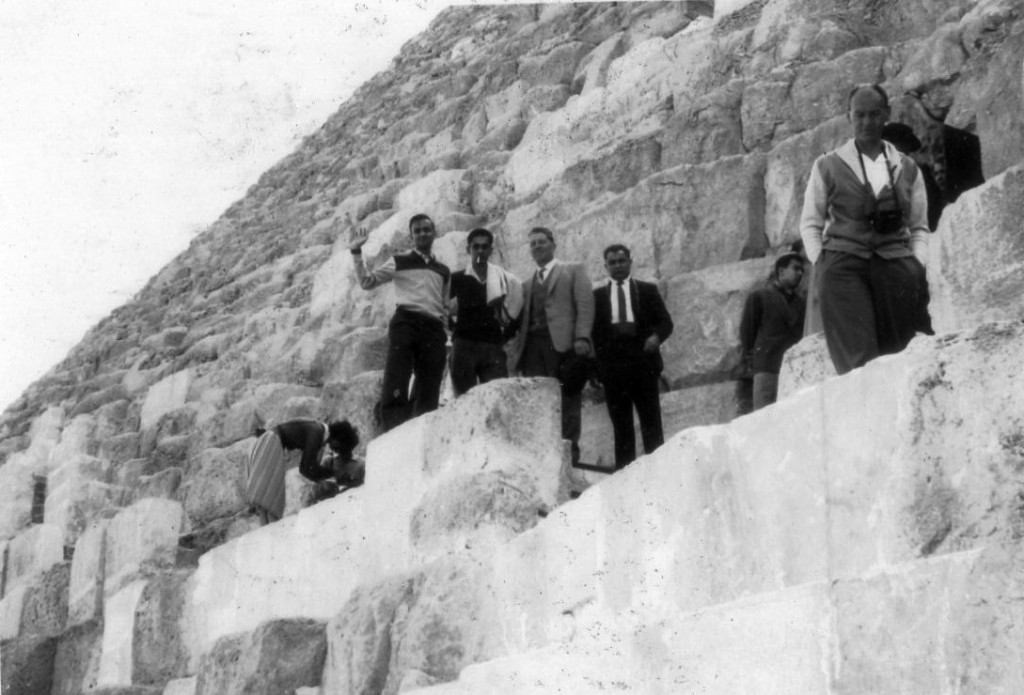 Then we went to see the Pyramids, one of the Wonders of the World. These are the most ancient, technically very superior structures. Our bus was parked a little way from the huge structures. We took a camel ride to reach the Pyramids.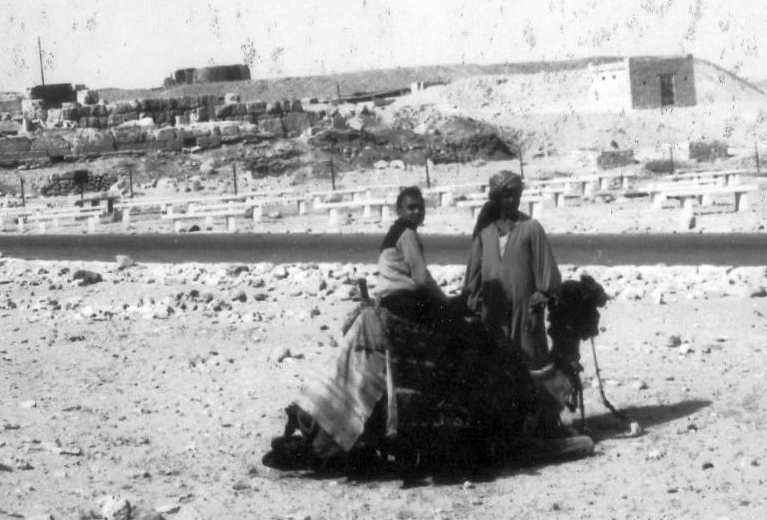 We had to climb up several steps on the slope. Then we reached a door. There we had to bend down to enter the door. After some distance through a narrow tunnel we climbed down into a big hall. There we saw a mummy. It was a king's mummy. The whole atmosphere was very mysterious and eerie! There were some more structures in the surrounding area. Some were converted into small museums.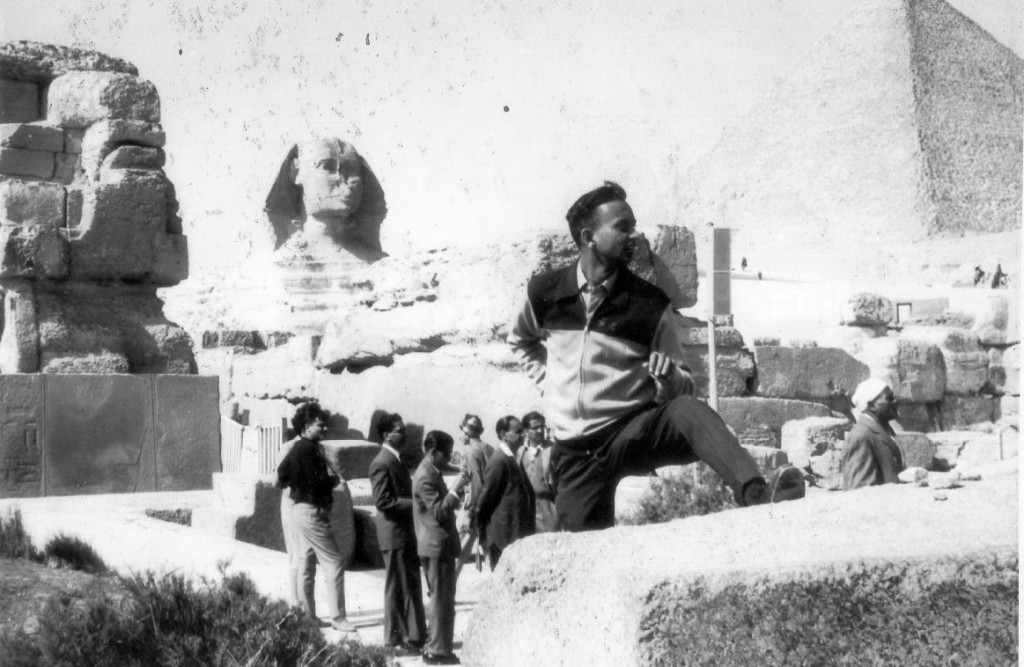 From there we went to see the most famous great museum of Cairo. It was full of wonderful things of the past. 5000 years of Egypt's history was displayed there in many ways in the form of various objects. Many mummies of royal family members, kings, queens, princes, princesses, their dresses, and ornaments together with their servants were dug out from the pyramids. They were all displayed here. It would take more than a week to see everything in detail. The whole scenario is just fantastic.
Now we were tired and hungry. We again went to the same hotel, Hotel Savoy. For lunch, I had vegetable cutlets, rice and curd. The curd was very tasty. And then fruit jelly as dessert. After a very satisfying lunch we were ready for more fun and adventure. We saw several palaces, famous mosques, and such historical places. After seeing some mosques the guide on the bus announced that we were to visit one more famous mosque. But by now we were not in a mood to visit any more mosques and tombs. I shouted loudly that you take us to some lively place. All the passengers agreed with my suggestion. So the bus was taken to the center of Cairo city. We wanted to see the modern Egypt and their markets. There were many malls. In those days they were known as department stores. The prices were very high. There were 2-3 other steamers also in the ports. So the shop-keepers had increased the prices. I did window shopping.
By now it was evening 6.30.p.m. and it soon became dark. We again went to Hotel Savoy for tea and snacks. Then we were on the return journey. The bus was running at full speed of 70 mph. All were in a good mood. Every one was enjoying. People started singing and telling jokes. The tour guide on the bus was very cooperative throughout. He always gave much details of everything. It was a cold pleasant day.  At about 9 p.m. we reached Ismalia city. Here we had a good dinner at a very posh hotel. The dining hall was very big. It was a very well decorated and very well-lighted dine and dance hall. Then by 11.p.m. we reached our steamer "Conte Grande" in Port Said. This was a once in a lifetime experience. I felt so much grateful to Mr. Ziller. Without his help I would have missed a wonderful opportunity in my life.
Italy
After more than 24 hours in the land of the Pharaohs (Egypt), and making a journey through centuries of different empires, the next morning we left the continent of Africa for Europe. From Asia to Africa to Europe. Now we had entered the Mediterranean Sea. It was getting cooler every day. The next port of call was Messina. This is a port town on the island of Sicily. The famous island of Malta is very near by. This is the southernmost part of Italy. There was an announcement by the purser. We were given 3 hours shore leave. We were informed that a festival was being celebrated in the town. We were all invited to take part and participate in their enjoyment.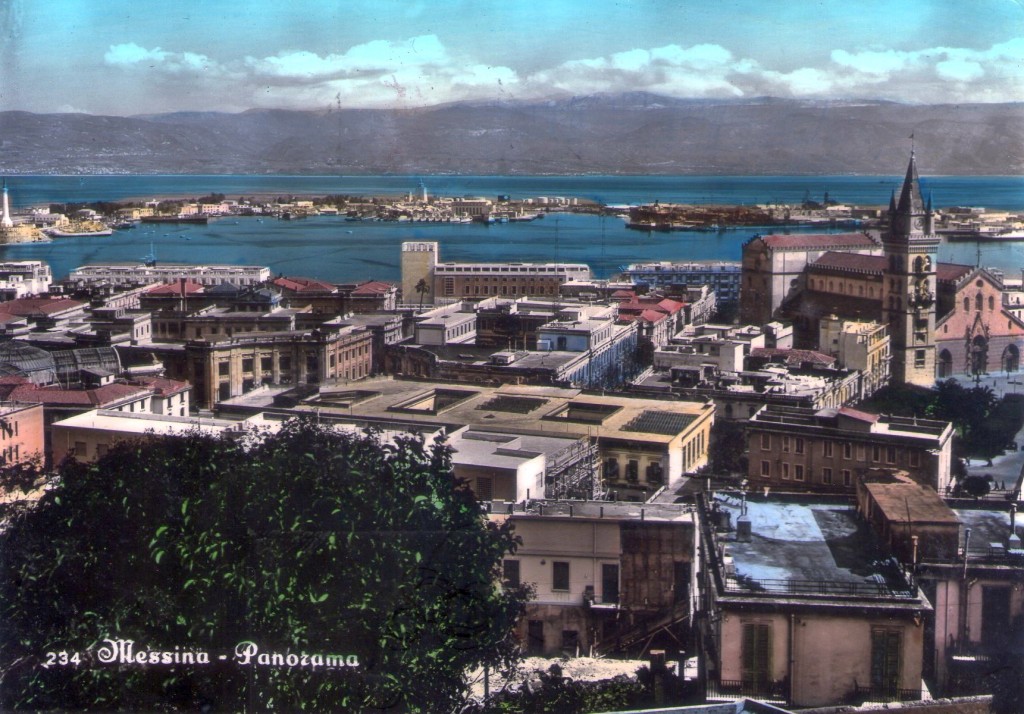 On the shore there was an atmosphere of festival. It was a glamorous spectacle. A big procession in colorful dresses was moving along the main street of the town. People were dressed in fancy dresses with fancy head-gears. There were gold and silver colored ribbons and multicolored balloons flying. There were several groups of musicians playing all kinds of instruments. People were dancing and singing to the tune of this music. We also joined these people. They were distributing chocolates, pastries and other sweets. We were honored as guests and given a basketful of these sweets. Soon I became very popular, as I was dancing freely with them. A group of girls surrounded me. They fully covered me with the ribbons. It was like visiting heaven where beautiful fairies were at your service! We enjoyed one more unique experience. We never wanted to go back to the ship!! I said, " What a dream!".
Now we were sailing along the west coast of Italy. It was getting cooler and cooler. It was the European winter. Our next port of call was Napoli (Naples). Many Italian passengers disembarked here.  A lot of cargo was also unloaded. Here again passengers were informed by the purser that a bus trip was organized to visit and see the famous ruins of Pompeii.  This is a historical place. The site is that of the ruins and remains of a historical civilization. The volcano Vesuvius had erupted in the year 1554. The burst of volcano vomited tons of lava. The temperature of the semi-liquid earth coughed out of the volcano was more than 1000 degrees Centigrade (Celsius). The lava spread around the mountain very fast. It destroyed the civilization in the surrounding area totally.
The lava got solidified while it was proceeding through the city of Pompeii. Half of the city got burnt and was buried under lava. It was a very peculiar scenario. On one side you could see ruins of the old civilization. On the other side you could see buried and burnt civilization. Italy has preserved very well all the remains and ruins in the whole city! We could see half burnt buildings, roads, market places, palaces, gardens. We could see the horrible power of destruction of Mother Nature. Mother Nature has time and again shown her displeasure and punished human beings through many natural calamities such as earthquakes, volcanoes, tsunamis, tornadoes, etc. But the humans are incorrigible. They forget all the lessons and behave like devils.
Now we were only one day away from our destination. In the earlier days till we came into the Mediterranean Sea, it was warm during the daytime. So I was wearing shirt and cotton pants. But then the evenings were getting cooler. So I was wearing a suit for dinner. The first time I went in a suit for dinner and the common rooms, my Indian friends greeted me warmly: saying "Wah , wah! You look smart." Somebody said, "You look charming." Dr. Rele said, "lai chhaan diste".
After Naples, the next and the last port of call was Genoa. This is a very busy port. It is well-developed for the import-export trade of Italy and also for passengers like tourists, businessmen, professionals, etc. It is very well connected by railway with the hinterland. We had our last lunch on the steamer. We disembarked and passed through the immigration procedure and customs. I had train tickets from Genoa to Munich (Germany), via Milan. On the steamer we had heard rumors that there will be a railway strike on 16th Feb. But luckily the strike was called off.
The train station was not far. I walked down to the station. The train for Milan was at 11.45. The journey to Milan was about a few hours. We reached Milan in the afternoon by 3.00 p.m. Milan is one of the very big cities of Italy. The railway station is very big. It is bigger than our VT (CST) station. The whole station is at an elevated level and not at the street level. For entering and exiting from and to the street, all passengers have to use escalators. All facilities for passengers like waiting rooms, left luggage room, restaurants, information desks, post office, rest rooms, etc. are well equipped and well furnished.
I put my baggage in the left luggage room. I wanted to go out of the station to do some window shopping. I made enquiries about my train and got my reservation checked. I also sent a telegram informing my train arrival time to Arun, my younger brother, who was studying engineering in a Munich technical college. I was feeling very lonely and nervous. I was looking for some Indian face. I saw a Punjabi gentleman. He also saw me and came to meet me. We exchanged greetings and asked each other our plans for further traveling. He was expecting his wife who was also in Conte Grande, to come to Milan by train. But because of railway strike rumors she changed her plans and disembarked at Naples. From there, she went to London by plane. This poor husband did not know where to go! Now he was planning to go to London by plane. Milan has a very big modern international airport also.
Coming out from the station I saw two very big buildings. One was 40 and another was 60 stories high. This was the first time in my life I saw "sky-scrapers". It was very cold on the street. But the atmosphere was still festive. Children were seen in fancy dresses. I was observing people and they were observing me! It was very funny!
My train was an international overnight train leaving at 8 p.m.  It passed through Switzerland in the Alps. During the night passport and other papers were checked twice. First when we entered Switzerland, and then again when the train entered Germany. The night was very cold. There was a heater in the compartment. I was in second class. The seat was much better than our first class. One extra-wise passenger instead of putting the heater on maximum heating turned the switch the other way around. So we suffered for about 3 hours. Then some wise passenger adjusted the heater properly and we became comfortable.  That time Euro train did not exist. Now Euro train is a boon for traveling all over Europe.