To explore more of space and people, I left Kochel. 27th April was my last day at Kochel. On 28th early morning, we all said good-bye to each other. In German they say, "auf wiedersehen". This means "till we meet / see again". Arun and I packed up my things and left by train to Munich. My brother Arun was staying there as a paying guest with a family.
Bad Kreuznach
We had an invitation from Dr. Peter Gaeffke, a friend of my father. He is a great scholar of Indian philosophy and culture. He had done his Ph. D. in Hindi language as his subject, from Benaras Hindu University. He could speak and write very fluently in Hindi. His wife's name is Rosemarie and son's name is Guido. The invitation was to stay with them for a long week-end in their house in Bad Kreuznach.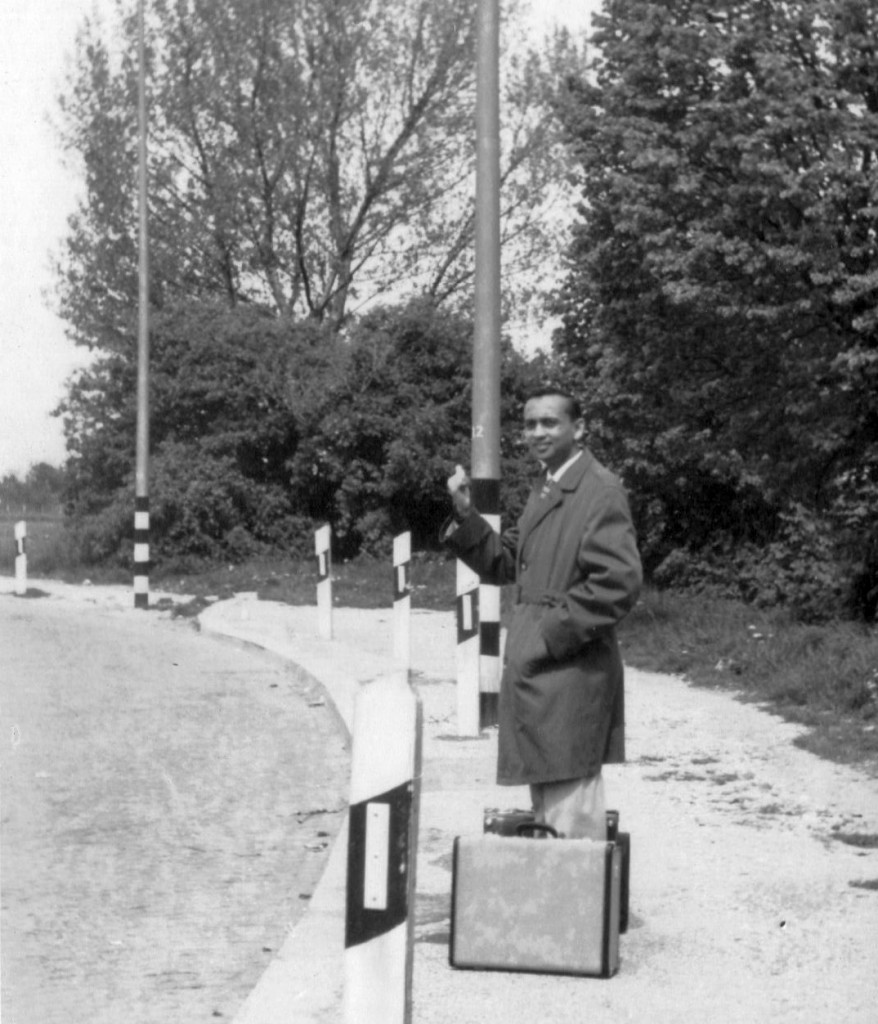 It was a long journey. Train travel was very costly. We came to Munich by train. From the station to the entry of the autobahn we came by bus. City bus service is very cheap. There we stood on the road going to Frankfurt. There were 2/3 other persons also there. They got the lift in 5 -10 minutes. Then after 10 minutes, or so, Arun raised his hand to stop a fast-going car. The car did stop, but a little further up as he was driving fast.  So we ran up to the car. There reaching near the car, we found that he was not alone. There was a big dog on the rear seat!! We asked him if he could take us to Bad Kreuznach or up to Stuttgart (that is half way)? He said he could take us up to Frankfurt. We agreed. It was about 11:00 a.m. By about five in the evening we entered the outskirts of Frankfurt. The road was very good. We passed by/through many towns. We could see old German architecture in many churches and houses. The dog was very quiet throughout the journey.
Frankfurt is a very big important commercial city. There are many big and small industries in this area. It has a big railway station and also a big international airport. We wanted to go to the railway station. This is in the center of the city. It was closing time for offices. So there was very heavy traffic. This city is much more modern, rich and fashionable compared to Munich. Munich and the surrounding parts of Bavaria are agricultural and simple. After observing the people of Frankfurt, the people of Bavaria seemed to be looking like "villagers". Here we found people were well-dressed, in modern, fashionable style and design. There was a swagger in their personality. We took some refreshment at the station and caught a train. It was only a 40 mile journey. The whole journey from Kochel to Bad Kreuznach was about 400 miles. We traveled by train the first 50 miles and the last 40 miles. We spent only 12 D.M. instead of 50 D.M. for 400 miles!! We reached our host's house by 8:30 p.m.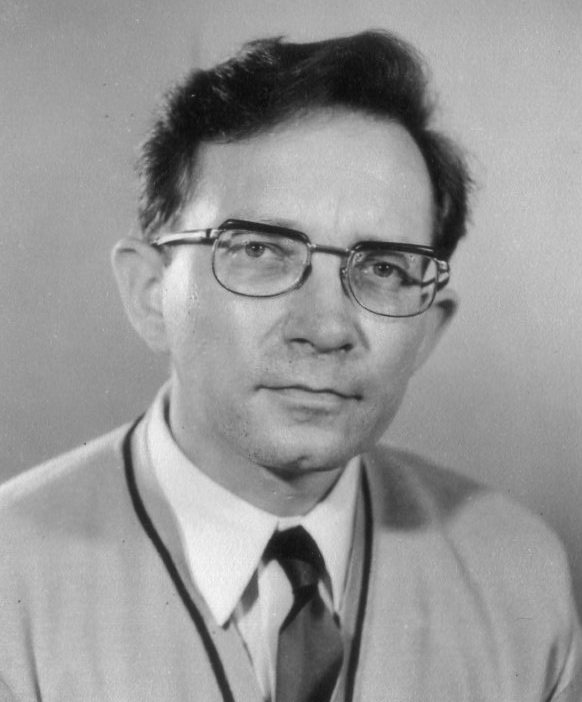 Dr. Peter Gaeffke, a very scholarly young man, was a senior professor in the University. He was an expert in Hindi language. He was doing research in Hindi grammar. He was writing his comments on Hindi grammar in German language. He and his wife were very very happy that we could visit them. Two years earlier my father had visited them and had stayed with them for a few days. He told us that he was very impressed with my father. He said that Mr. Zaveri was a very knowledgeable person. His knowledge of Indian Philosophy and Indian religions was very exhaustive. He expressed his respect for my father in many ways. He and his wife were very loving and gentle persons. (We recently found out that he passed away in 2005.)
Next morning after breakfast, Mrs. Gaeffke took us to a marketplace for shopping. We purchased rice, vegetables like green peas, cabbage, potatoes and such other things. Then Arun helped her to cook vegetable soup, rice and salad. And there were varieties of breads. We all enjoyed the food very much.
After lunch, Dr. Gaeffke took us in his car for sightseeing. We took a road running parallel to the river Rhine. The river Rhine is Germany's biggest river. It is a very important means of transportation. The surrounding area is full of industries. The river was full of all sizes of motorboats and steamers. There are autobahns on both sides running parallel to the river. At many points there are facilities to cross over the river by loading the cars on special big flat boats. The whole surrounding area is very beautiful. There are rows of small and big hills on both the sides. There are many castles built upon these hills. Each castle has its own story of small and big kings of Germany. We went up to see one of the castles. That reminded me of the castles I had seen in Maharashtra and Rajasthan. The castles have certain similar basic features. But each one has its different special features.
Thus after a very enjoyable and informative weekend, we returned to Nurnberg. From next day I started my training in "trafowerk". This transformer factory manufactures large and very large power transformers. These are very huge machines. Therefore the factory buildings are also very big and are equipped with heavy-duty cranes. I was particularly trained in material planning.
Nurnberg
Siemens have hostels for trainees from overseas. There are two separate buildings. One was for single trainees and another for trainees with wives. They were opposite each other across the road. These were near (walking distance) Dr. Schmidt's residence. There was a facility for breakfast in the main building. But the facility for cooking food was only in the other building. I managed some food for my lunch in the factory canteen. I had to go to some vegetarian restaurant for my evening dinner. At that time there were only two restaurants serving vegetarian food. There were very restricted choices. This problem was discussed in the family before I left Mumbai. The option of Chandra coming to Germany, with or without Ameet, was left open, to be decided later.
From next day my training started. The training schedule was particularly in the area of material accounting, controls over material consumption, and quality control. In spite of my language course at Goethe institute the technical language was a problem. But the people were very co-operative. They would explain every problem with the help of drawings, sketches, flow-charts etc.
Hanover Fair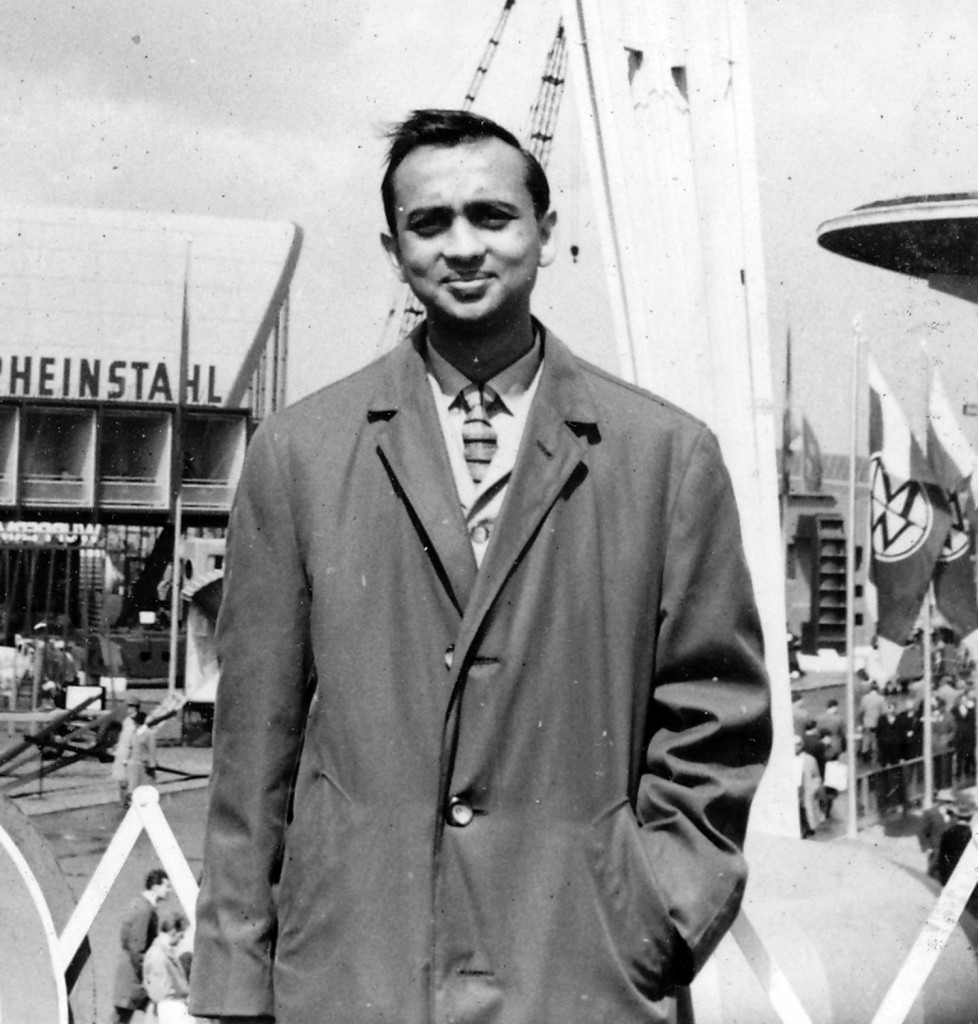 I came to know about Hanover Fair in Siemens office. Every year a very big international industrial fair is organized in Hanover, Germany. All big industrial giants take part in this fair. That year it was organized in the month of May. People from all over the world visit this fair. Thousands of visitors come to Hanover. The fair authority and the city authority make excellent arrangements for the visitors. They arrange information and help desks all over the city. All the residents of the city have all the information about lodging and boarding to help visitors. Almost every household offers one or more "bed and breakfast" facility (pension) to visitors at very reasonable rates. Special buses to the fair grounds are put into service.
I stayed there for three days, 5-6-7th May. The climate was very comfortable. I traveled by a night train reaching there early morning. I had made my reservation for a paying guest facility. From the railway station I went to the "pension". This is not a hotel, but a place with bed and breakfast facility. I took my breakfast and changed into formal clothes. I reached the fair by a bus. First I went to the information office. I noted places of my interest and chalked out my plan.
I suddenly noted that an Indian gentleman was coming towards me. To my utter surprise he was Sharabatmal Bhandari of Jodhpur. This Bhandari family was very well known to our family. Sharabatmal studied in VJTI College in Matunga. This is very near my residence in Matunga. So he used to visit us many times during his stay in VJTI hostel. He was in Germany for his special training in textile machines. We were both very happily surprised to meet, after a few years, in a totally unexpected place!!. I noticed he was carrying a carry-bag besides his briefcase. I was curious to find what he was carrying. But I overruled my curiosity.
In another 15 minutes or so we saw a very tall young Indian. I immediately identified him as Anil Shrivastva. He was also a trainee in Siemens Germany from Siemens India. He was staying in the same hostel in Nuremberg. We knew each other well. He joined us. We three had a great time seeing the fair. At lunch time we entered a small vegetarian café. Here the surprise of the "carry bag " got disclosed. There were the most beautiful fruits in the world – MANGOES! Sharbatmal had received these mangoes the previous day. We were very lucky to have this surprise.
Sharbatmal left Hanover on Sunday afternoon. Monday afternoon I took a sightseeing tour. I saw some very beautiful palaces, royal gardens, royal opera house and a museum of sculptures. There were many white marble statues in the garden.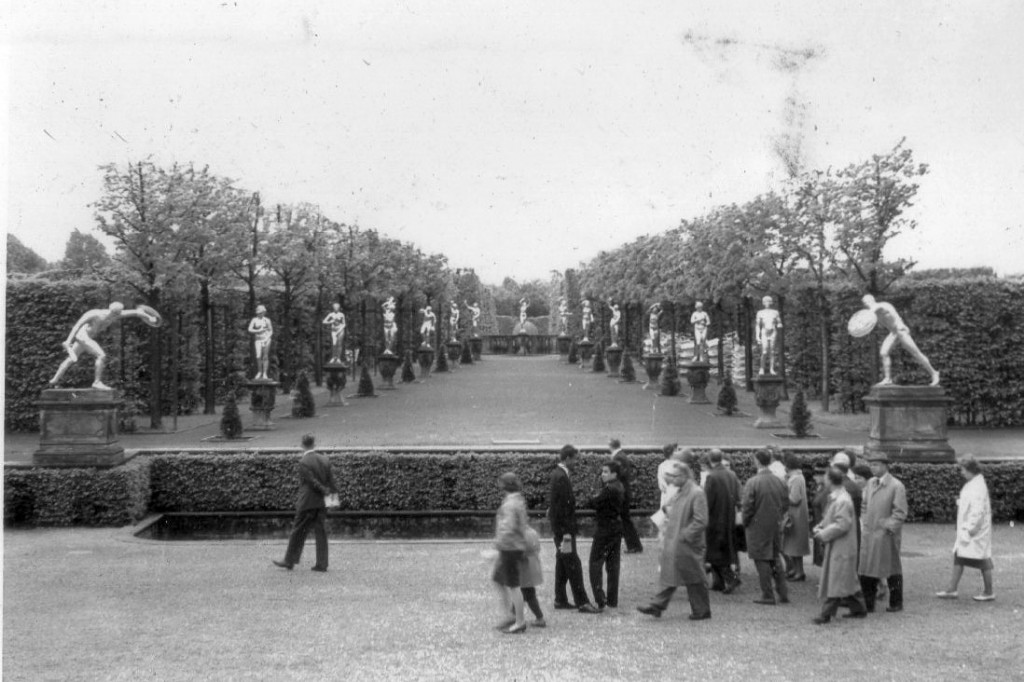 Interlaken
I got news that my father was coming to Europe as the head of a delegation of electrical engineers, representing ISI (Indian Standard Institute) to attend an international conference. He was chairman of ETDC (ELECTRO TECHNICAL DEVELOPMENT COMMITTEE of ISI). The venue of their conference was Interlaken, a beautiful city in the Alps, in Switzerland.  I was so very happy to know this. I planned a weekend program to go to Interlaken. I left on Friday late night reaching there Saturday early morning. I reached the hotel in good time for breakfast. My father introduced me to the members of the delegation. They all welcomed me very happily.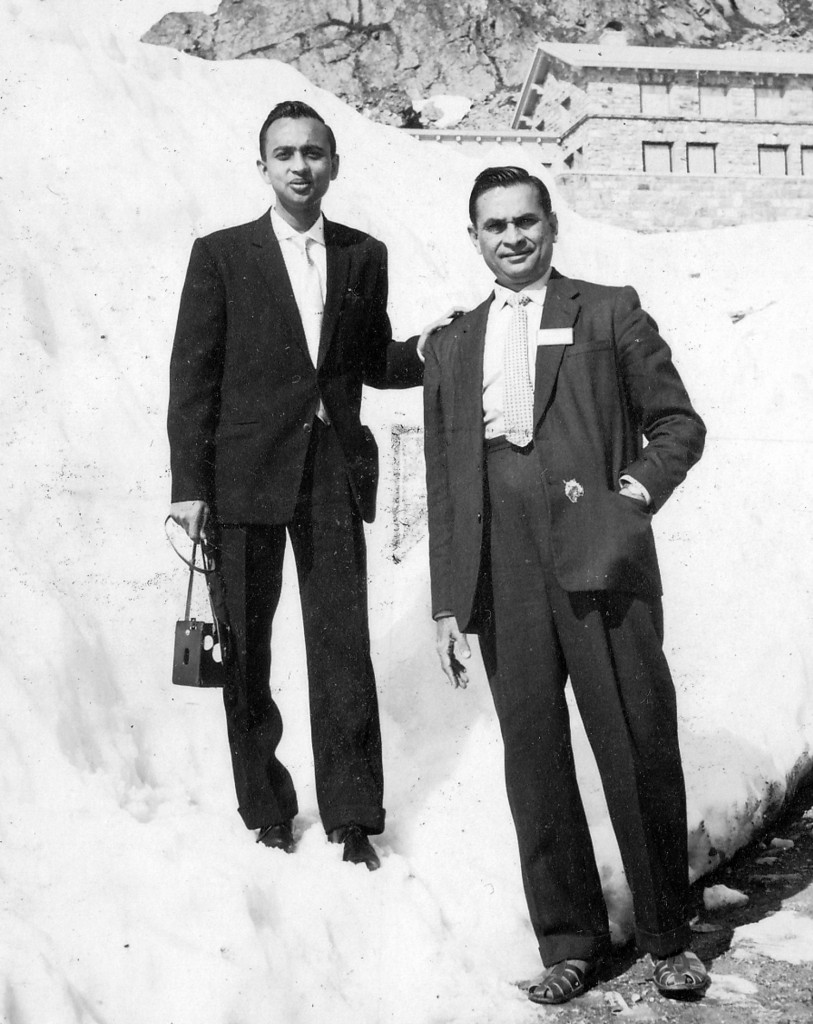 I got to visit Jungfrau. This is one of the highest peak of Alps mountains. The peak and the surrounding area are permanently covered by snow. They have carved a beautiful ice palace. It was very cold. But luckily there was no wind. This being a favorite tourist place, there were many tourists. The conference management had made arrangement for buses. We went for sightseeing. The surrounding, the scenery, the beauty of the Alps were awesome. I returned Sunday evening. This was a wonderful trip.
It was here in Interlaken that the fate of Chandra and Ameet was decided. I explained to my father as to why it was necessary to have my family with me in Germany. We reexamined the financial angle also.  The decision was made that Chandra would come to Germany with Ameet! My father sent instructions to BBL office to arrange for passport, visa, ticketing and other formalities. The arrival date was 21 July1961. This was a memorable day for me and my family.