Munich
In the morning we arrived at Munich. This railway station is a huge one. Munich is connected by railway with all the European big cities. On the station I did not see Arun. I was worried. I wondered what to do. I had Arun's address. But I knew that it was very far from the station. I was informed by Siemens, that arrangement and reservation was made for me in the Siemens hostel for a weeks stay. So I decided to take a taxi and go to the hostel. I hired a taxi and asked the driver to take me to Siemens hostel. The driver told me he did not know the hostel's address. But he knew there was a big Siemens building near the station. So he took me there. There I went to the receptionist desk. I asked the lady about the hostel. So she gave me the address. She told me to wait there and let the taxi go. Then she contacted the hostel on the phone to check about my stay there. The hostel replied that they can not find my name. So the receptionist contacted Erlangen head office. It so happened that there were two hostels for trainees. The head office assured that the reservation/booking for my stay was made. They gave her the correct address and telephone number. They had difficulty in pronouncing my name.
In German alphabet "v" is pronounced as "f"!! They thought my name was "Jaferi". The receptionist arranged for a vehicle to take me to the hostel. So at last I reached the hostel.
The telegram to Arun reached a little late that morning. He, with his friend Vijay Kapasi, ran to the station. Not finding me on the platform he contacted the hostel on telephone. The supervisor informed him that I had reached there. They immediately came to my hostel. They had some medical check up in the college. So there were no lectures or classes. After meeting and greeting they went for their medical check up. I was very much tired. I took bath and slept for a while. Arun and Vijay returned at 11:30. I had brought a lot of goodies for them. They were very happy to see "chevdo" and "ganthia".
The hostel room was very comfortable. It was well furnished. Arun had brought some beautiful flowers, thus making the room cozier. This was a five story building. There were six rooms on each floor. There was a dining room on the first floor and also a small office room of the supervisor. We got breakfast in the morning and dinner was optional.
The next most important task to be accomplished was to open an account in a bank. We reached the bank just half an hour before the counters closed. There was a young girl at the counter. She thought she would complete the work quickly. Arun and Vijay had come with me to help me. But instead of helping me, they would discuss and give me advice against each others opinion. This made me and the girl at the counter confused and nervous. I had several transactions to be done. The first was to open a new account. Then I had travelers' cheques in English pounds. So these were to be converted into German marks. Then I told her to give me three hundred marks in cash. But Arun advised me to get four hundred marks in cash. Then I gave her the name, address and account number of Mr. Ziller. I asked her to transfer 8 Australian pounds from my account to that account. This was equivalent to 76 German, i.e. Deutsche, Marks (DM).
She filled up relevant vouchers. She asked me to go to the cashier to collect the cash. He gave me 400 marks and also an additional 800 marks. These 800 marks were to be deposited in my account. This crediting of 800 marks she had already done. And by mistake she also made a cash voucher. The cashier called her. He instructed her to mend her mistake. She felt very sorry for the mistake. She apologized. Then she told me that, if I had not noticed the mistake, I would have made a profit of 800 marks. And that she would have to pay from her pocket. She thanked me profusely. She was a trainee only. Arun and Vijay made sarcastic remarks. They said she is a good girl. She will be willing to go with you for dinner and dance!!
Learning the German language was a prerequisite. Siemens had recommended that BBL personnel going for training should learn German at Goethe institute in Germany. So my program in Germany was as below:
1-3-1961 to 30-4-1961       Goethe Institute – Kochel
1-5-1961 to 30-7-1961       Trafowerk  – Nuremberg
1-8-1961 to 30-10-1961     Elmowerk – Bad Neustadt
Erlangen
Now I had about one week free in Munich before joining the language course in Kochel. One very important task for me was to report to the liaison officer in charge of BBL matters. His name was Herr Warmuth. I phoned him and informed him about my arrival in Munich. I made an appointment to meet him in his Erlangen Office. He had often visited BBL office in Bombay. I had personally met him there. He knew me well. He also knew English well.
Normally people go by train from Munich to Erlangen changing trains in Nurnberg. It takes about 3 hours. But Arun always had different ways of doing things. He had found a system called 'mitfarhen'. He took me to Munich station. There instead of going into the station we went into a bye-lane. There was a very small office. When a car owner is traveling from one city to other and willing to take one or more travelers as passengers, he registers his name in this office. People like us who want a lift in a car, go to this office and register their names. We pay 3 DM to the office per registration and 7 DM per passenger as "petrol cost" to the car owner (in those days 1 DM was = 1.25 Rupees). The train ticket was 16 DM.
The car ride from Munich to Nuremberg (Nurnberg) was just wonderful. The Autobahns of Germany are world famous. We traveled at an average speed of 80 kmph. We had some spare time so we took our lunch at Nuremberg station. Then we reached Erlangen by train. Mr. Warmuth himself had come to the station to receive me. I was very nervous. I was to meet different bosses. I was wondering how I would go through the meetings with each of them. Bur Arun gave me a lot of courage. He told me that these people are very polished and well mannered. They will make you "moto-bha" (treat you with respect). My meetings went through very well. The officer in charge of my training was Mr. Simon. He was almost double in height and four times broader than me. A huge personality. When he shook my hands, I was just staring at him. I was mentally trying to figure out as how to deal with a person like this! He was in charge of my complete training program. Anything I wanted to do in Germany, I had to take his permission. The last person I met was Dr. Mair. He was in charge of all Indian collaborations. He was a good friend of my father. He talked to me about my journey, my health, my family and such matters. The last thing he told me, "If you have any serious difficulty or problem, come to me".
After all the meetings were over we went to see the office building. There was a guide to take us around. This is a huge building. There are about 8000 people working in this area. They have their own post office, telephone exchange, teleprinter machines, etc. These offices work almost 24 hours. They have contacts in every country of the world. After the tour of the building, Mr. Warmuth took us to his home for tea, coffee and snacks. He had also arranged for our night stay in a Nuremberg hostel.
We were invited for dinner by another family; the family of Dr. Schmidt. Dr. Schmidt was the head of one of the research division of Siemens. He became a very intimate friend of my father. He and his wife both were very much interested in Indian philosophy. They had three daughters. They considered Arun as their son. We had cheese toasts and vegetable soup and fruit juice. We had a nice evening after a very busy day.
The next morning we had our breakfast in the hostel. Arun took me around the city. He often came to Nuremberg to visit the Schmidt family. We went to see a church where there is a big clock tower. At noon/12 o'clock the clock opens and a group of puppet musicians come out and play music for some time. We took our lunch in a vegetarian restaurant which is just opposite to this church. We were left with very less money in our pocket. We thought of going to the bank to draw some money. But it was late. By now all banks would have closed down. Arun had some other idea. We sat in a tram and went to the end of the city from where the autobahn to Munich starts.
Arun explained to me that here it is customary to give and ask for a lift. He had many times traveled between Nuremberg and Munich by taking lift. We signaled several cars, but in vain. It was very windy and very cold on the open highway. We were wondering what to do! A delivery van (tempo) stopped. We just got in. But we found that he was not going to Munich. So he dropped us on the highway near a small town. Again we waited for another 15 minuets. Then a nice car stopped. He asked "who are you?" Arun replied, "Student". He took out his college ID with a photo. So the driver took us in. He talked a lot. He gave us two big Swiss chocolate bars. He was taking these chocolates for his daughter. But he said, "My daughter will be happier, when I will tell her to whom I gave the chocolates". He dropped us right at the hostel. He gave us his address and phone number. He said he would invite us. Arun has become very clever in dealing with Germans. He knew their pulse very well.
On 1st Mar. 1961 morning I reached Kochel am See (Kochel on lake) – a small village in the Alps. Here I would be staying as a paying guest for two months.
Goethe Institute
In Germany they have a beautiful institute to learn the German language. The institute has its headquarters in Munich.  They have about 50/60 or may be more schools all over the Bavarian Alps. All these schools are located in very beautiful natural surroundings of mountains, valleys, lakes, fields, rivers and small villages. Students come from all over the world. They are from different fields of life and from different age groups. This creates an atmosphere of universal brotherhood. In my group there was an Afghan professor – 78 years old. There were four Egyptian school teachers. There were Japanese, Chinese, Pakistanis, and Europeans. There were two American girls (school students).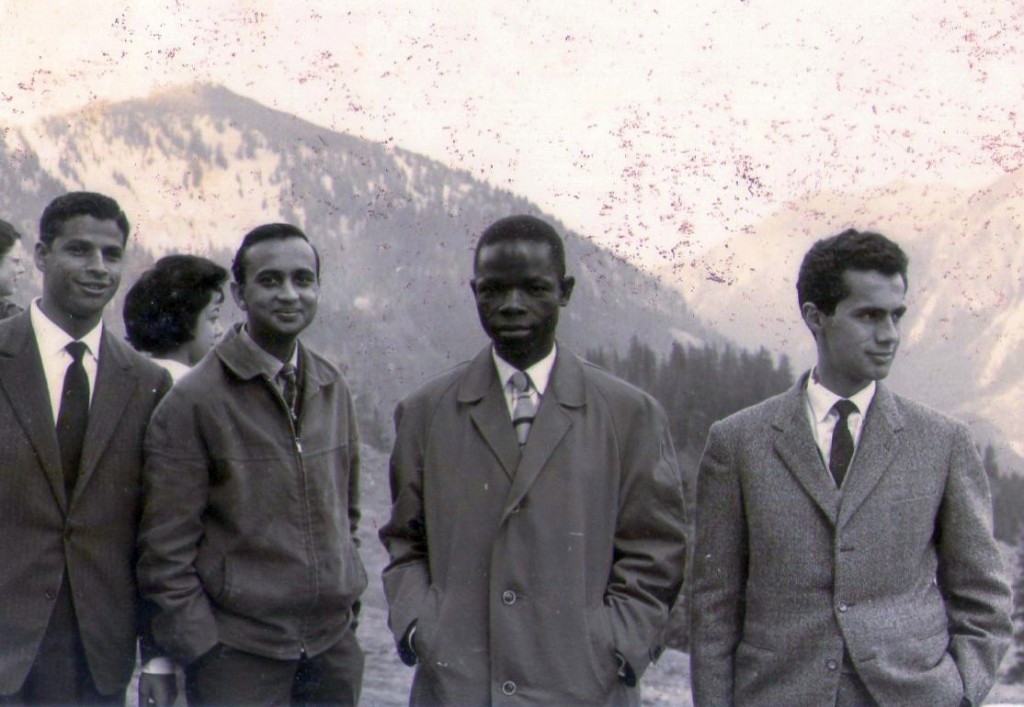 Our daily schedule started with getting ready before 7.30 in the morning. We had to reach school at 7:30.a.m. It used to be dark and very cold in the mornings. Our breakfast was arranged in the school premises. They served bread, butter, jam and tea. As I do not drink tea I had to make my own arrangement for milk. This I made with my landlady. Every morning she kept a thermos with hot milk ready for me. I paid extra for this milk. After finishing breakfast in one hour, the lessons would start at 8:30.a.m.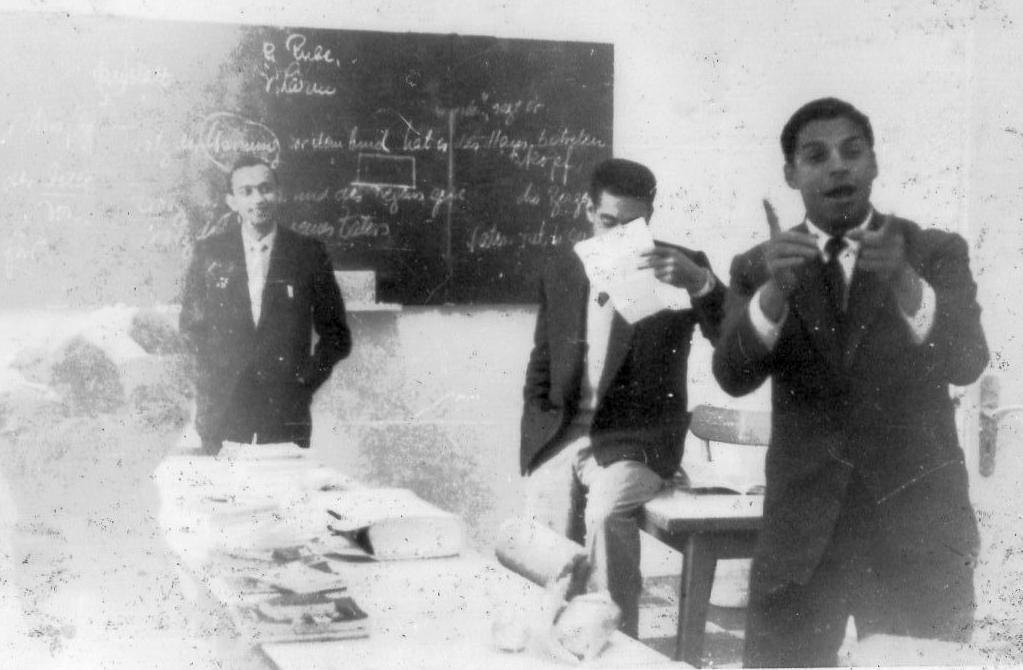 In my class we were 16 students. We had individual chairs with attached desks. I was sitting in between two South American lady students. One was married and another was unmarried. But both did not understand English. Both understood only Spanish! So I could communicate with them only in German or by sign language. There was a short recess for ten minutes. We would all go out in the veranda or compound and enjoy the sunshine. Then there was a lunch recess from 11:30 a.m. Our daily lunch was arranged in a big hall in a hotel. After lunch it was rest period till 3:00 p.m.There were afternoon classes from 3:00 p.m. to 6:00 p.m. But we were given a lot of homework to be done during the rest time and in the evenings. The dinner was served at a dining hall in a hotel from 6:00.p.m. 7:30 was the time to go home.  Saturdays school was only for a half day. There were tests every Saturday. Sunday was a full holiday.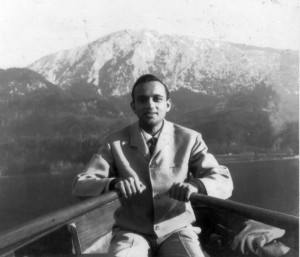 Kochel is a very small town, similar to our Panchgani. It is on the bank of a beautiful small lake, like our Mahabaleshvar lake with boating facility. All around we saw snow-covered Alps mountains peaks. It was very cold. Even in this month of March it was snowing. The temp. went down below zero. But soon it would be sunshine. Then temp. would go up to 10 C. Indoors, the temp. remained between 15 and 18. At night we used the heater for a comfortable 20 C. There were heaters in all school rooms, hotel dining room and other public places. But, whenever the room temp. would go higher than 20 C people would start shouting that it was hot!!
We were four students in two bedrooms in the house. The name of the family was Soul (pronounced Zoul). Here the housefrau (landlady) has more power than the husband. But our housefrau was a very kind lady. She would give us hot water for bath on every Saturday. My brother Arun was staying in Munich. That was only less than an hour by train. He often visited me. In German the brother is "der bruder". So Arun was well known as "der bruder". Whenever he visited me, all will welcome him calling him "der bruder".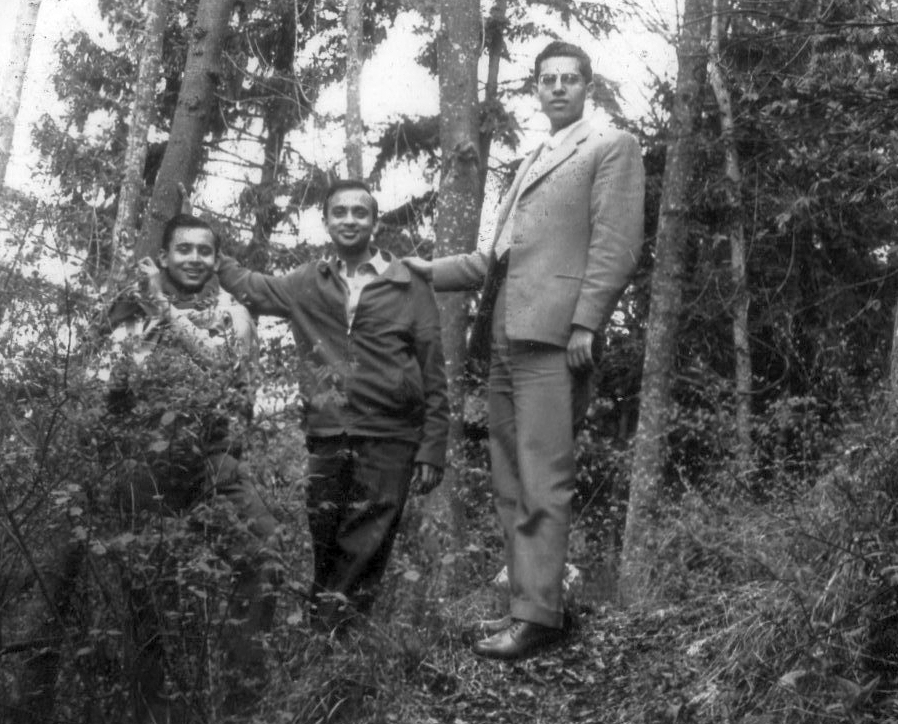 One evening I was talking with my landlady. I told her that I was missing my wife and my family. She then told me her story. She said, "You are away from your wife and family for a few months only. But I was separated from my husband for nine years. My husband was compelled to join the army. At the end of the Second World War, he was in a prisoners-of-war camp." She described her pitiable condition. She said, "Every morning I got up and very anxiously waited for his news. The whole day just passed away. I would wait till late night for his news. This way I passed days and months and years."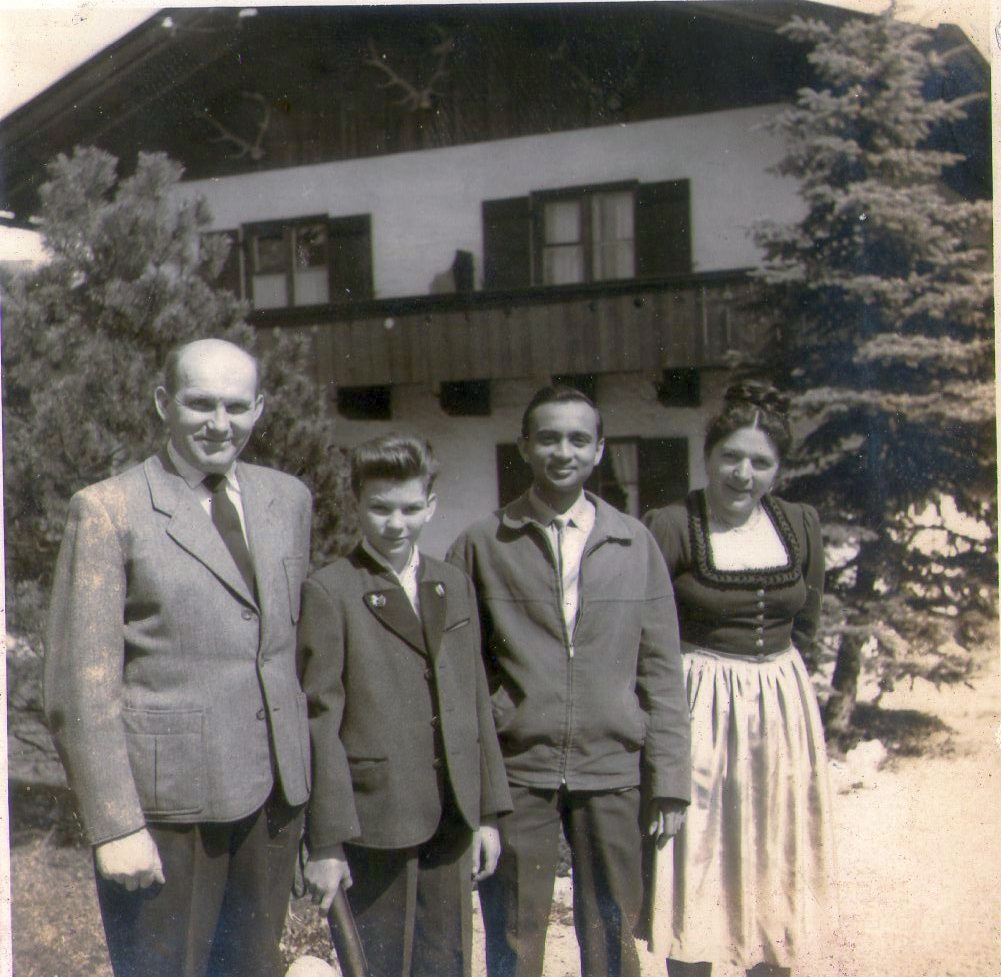 My roommate was an Irish ICS officer, married, working on deputation in Antofagasta, Chile, South America. His name was Patrick Whelan. He was in his late forties. He had three children. There were two English boys in the other room. We could converse in English very freely. There was an Indian girl Miss Cherian. Her family had settled in London.
By and large there was a big group of English speaking people from UK, USA, India, Pakistan, Sri Lanka, Egypt, Afghanistan, Australia, New Zealand, and South Africa. Our land lady did not like our use of English language. She would advise us to converse only in German. The philosophy of putting language schools in small villages and staying in farmers homes is to compel the students to use German language only. But this philosophy was defeated by English language!
There were people from different age groups and different walks of life such as professors, teachers, artists, engineers, journalists, lawyers and so on and so on. Thus a friendly group was formed. I was one of the popular ones in the group.  We played many playing card games. I knew some playing card tricks. One of them was a trick of vanishing card. I would arrange some cards in a particular formation that will form four sides of a square. The total of cards in each side of the square was 14. Then I would ask one of the spectators to add one card on one of the sides of the square. Then I would do the magic, my trick. I would mumble some words. I would shuffle the cards and rearrange in such a way that the addition of cards in each side will remain 14 only! This I could do for adding up to 10 cards, but one at a time. This made me famous as 'the Indian' with vanishing card magic.
We arranged several picnics. We would go to watch English movies with German titles in the local Kino (Movie Theater). Once we were watching one of the most favorite movies of that time viz. Ben Hur. The hero's friend was named Messala. In one scene the friend was helping the hero lifting a broken wheel of the chariot from the mud. He was struggling very hard. I was deeply engrossed in the scene. And just shouted very loudly in Hindi  "Messala tera masala nikal jayega"! The whole theater was laughing loudly. This made me more popular.
On 28th March 61, my room partner Patrick Whelan left for his home- Ireland. We stayed together for one month only. Even then we became very good friends. He was very intelligent. He was an IAS cadre officer. He was warm and considerate. We talked a lot about our countries our lifestyles and families. He would now spend a month with his family in Ireland. From there he would go to Antofagasta, in Chile, South America. Chile was a less developed country. UK was helping them by giving civil officers on loan/deputation. Pat was working for Chile railways.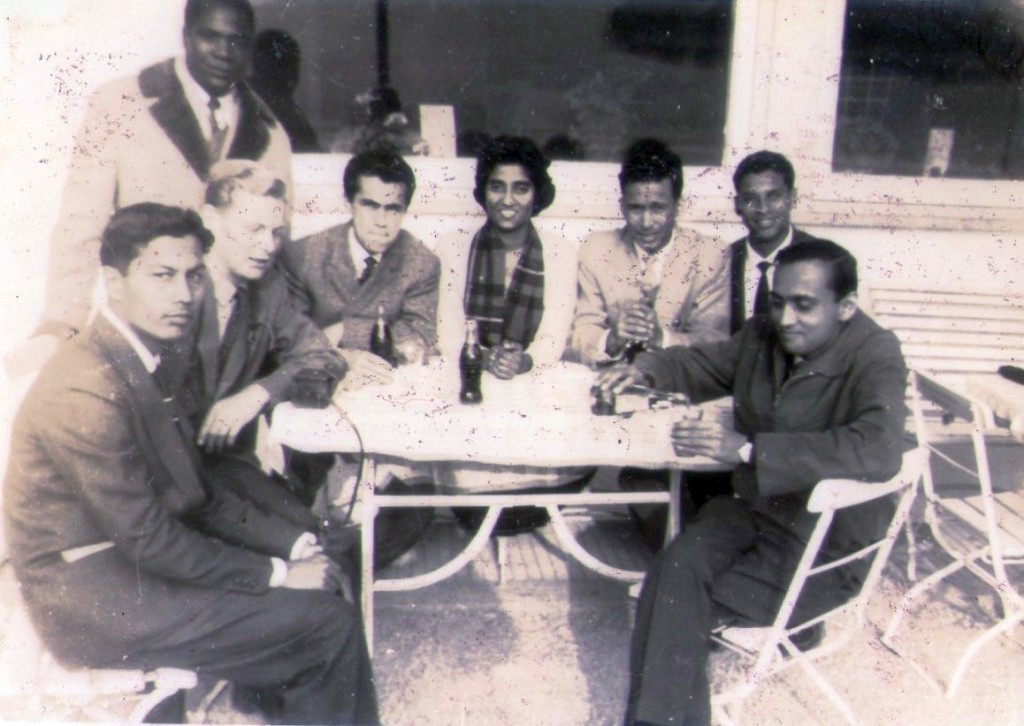 We had arranged a small send-off party in a small hotel. This was organized by me and another Indian girl Miss Cherian. Her family belonged to Cochin, Kerala. But they had migrated to England when she was a child. She grew up to become a typical English girl, but for her complexion. She had typical South Indian dark rosewood complexion. She was also very popular in the school. She was always ready to organize events. Our party was a grand success. Adequate atmosphere was established because of music. People enjoyed dancing. Miss Cherian was in great demand as a dance partner. She had sported a saree. She was getting booked as a dance partner three dances in advance. People, when not dancing were talking, saying jokes or just enjoying watching dance and listening to music. I did not know dancing. So I was sitting talking and drinking coffee. After mid-night, the dancing stopped. But singing with low music continued. It was Easter Sunday. There was a Greek gentleman in our group. His name was Papadopoulos . He was singing very well. He sang many Easter carols. After 1:30 in the morning, people wanted to go home. Pat and I reached each one to his or her house. We reached home after 2:00 in the morning. A personal friend of Pat had come from Switzerland to see him. We accommodated him in our room as it was too late to go to a hotel.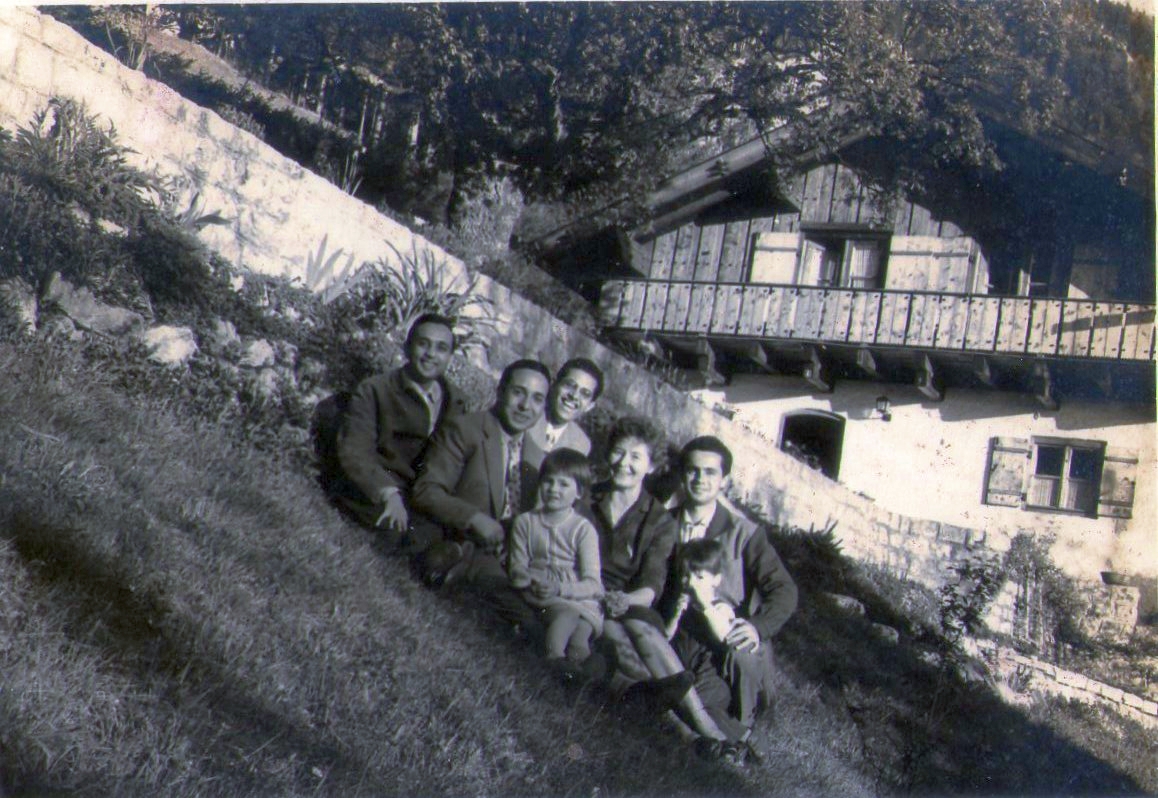 We had arranged for a picnic/trek for the next day (Sunday). We were seven. Pat and his friend, Robin, Margaret, Cherian, Nader Moses and me. There is a beautiful village named Benediktbeuren about six miles from Kochel. There was a trek going through the hills and forests. The weather was very good. It was not very cold but very pleasant. We walked through enjoying natural beauty. We had brought picnic food with us. We went to a small hotel. We ordered some drinks and took hoteliers permission to eat our food. We wandered about in the village. Pat's friend separated. He took a train to Zurich. Pat and I went to see a monastery. All others returned to Kochel by train. The monastery was about 200 years old. (now 250 years old). There were big prayer halls. The walls and ceilings were painted in beautiful colors. These are called frescoes. There were pictures of Jesus, angels etc. They were wonderful. We returned to Kochel in the evening by train in ten minutes. In the morning it took more than two hours trekking!
Our school had arranged a mountaineering trip. We started at about 10:00 am. in the morning. We were about 60 people. We traveled about 70 miles in the state of Bavaria. We traveled through mountains, valleys, forests, lakes etc. we stopped in the foothills of a mountain. The plan was to go up the mountain by wire-rope chair-cars to the bottom of the pinnacle, then climb up to the pinnacle-top on foot. There was snow on the top. The snow had started melting. This created a lot of mud. It became  very difficult to climb up in the mud. It took a much longer time. At last we all reached the top. We were very tired. We rested for a while. Then we climbed down till the wire-rope chairlift. And then by the chairlift to the bottom of the mountain. At last we reached the bus. We were very tired and very hungry. It was about 3:00 pm. We went to a restaurant in the nearest town. It was a funny but pitiful situation. A cosmopolitan group of 60 very hungry and very tired people were shouting for food. And the restaurant had no food to offer!! Another restaurant however agreed to give some food at an extra cost. It was the most dear food!!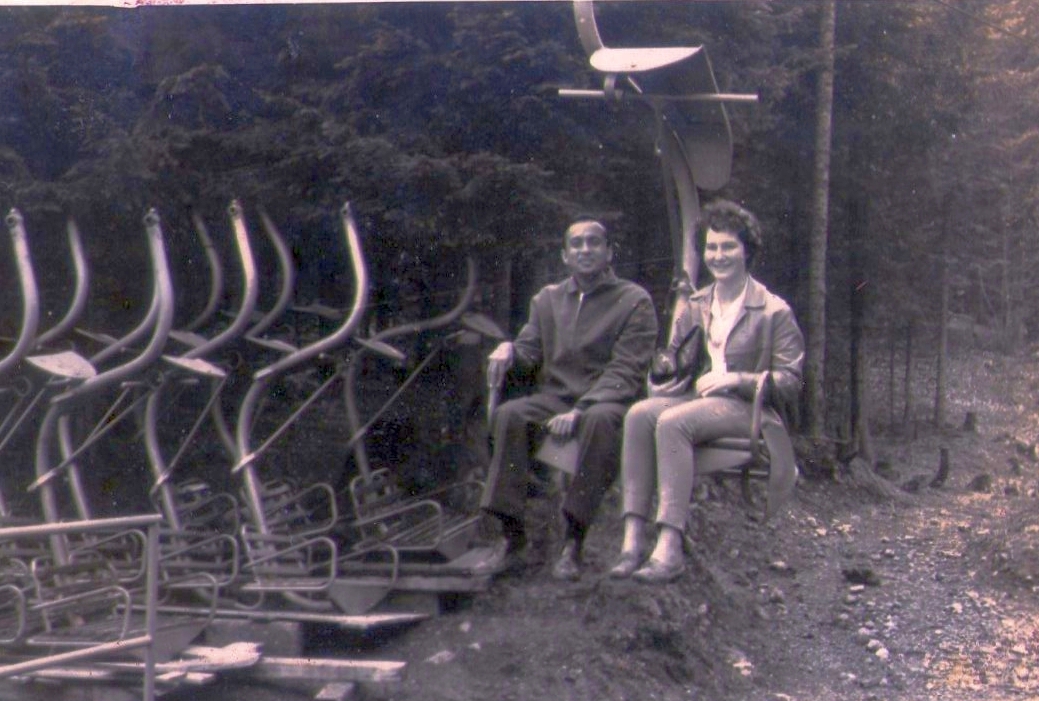 My Pen-friend Albert Nadler
One of my hobbies since my school days was pen-friendship. I had pen-friends in many countries.  I had a friend in Germany. His name is Alfred Nadler. My regular correspondence with him lasted till my college days (1947 to 1954). When my tour to Germany was finalized, I wrote to him, informing him about my tour. I had informed him about my language course in Goethe Institute, in the town Kochel am See.
One Tuesday afternoon my pen-friend Albert Nadler from Augsburg, Bavaria came to visit me. He wanted to meet me in Munich but as he was busy then, he could not make it.  He inquired about me in the office. He waited for me outside the class room. As soon as the class was over, he entered inside and asked "Who is Mr. Zaveri?" I replied, "I am" extending my hand. I was trying to figure out, who this person could be? May be some one from Siemens office? He held my hand and replied, "I am Albert Nadler".  This was a complete surprise to me. I was very excited. I had never dreamed that I will meet my pen-friend in person. I was very much exhilarated. He was also very happy. We shook hands for a couple of minutes. The whole class was watching the happy meeting. He took me out to a restaurant for coffee. We talked a lot. He said he would get married in May or June. In a couple of weeks he would come to Kochel to take me to his home and for sightseeing. He was working with a good business firm in their marketing division. He had to travel very extensively all over the country. The company had given him a car also. I found him to be a very jolly fellow. He could speak English very well.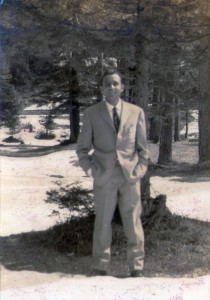 One Saturday morning (1-4-61), Albert came to pick me up in a beautiful Austin car. He came! And he came with his fiancée Martha!! He was engaged only a few days earlier. He had planned to take me for a tour in the mountains. We went into the mountains and drove up to the Germany-Austria border. In the mountains we could see snow all over on all sides. This was my first experience of walking in the snow in Alps. Mother nature was in the most beautiful facets all over. We reached Germany–Austria border. Passing the international border we went about 60 miles in Austria near the city of Innsbruck. We took our lunch in a small restaurant. I will never forget that day of meeting a pen-friend, with his fiancée, in the Alps, covered with snow. There was sunshine. But it was still very cold. We sat on a table outside on the pavement.  This was like a scene from an English movie. It was such an exhilarating experience.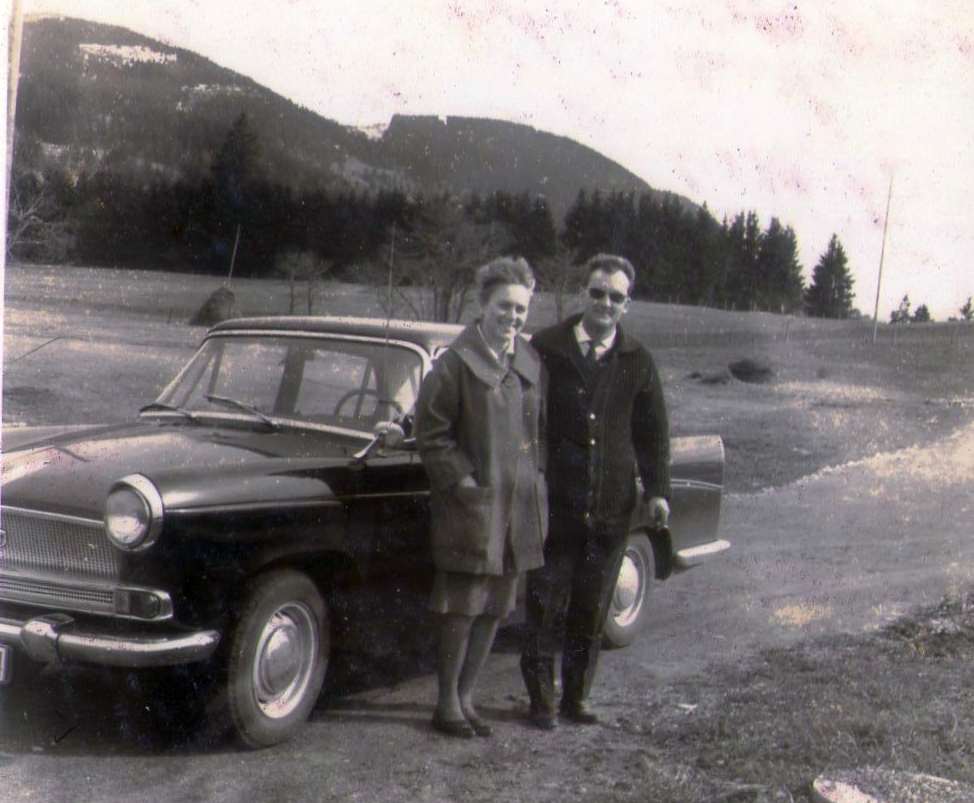 Then on return journey we entered Germany by the road leading to Augsburg. We passed by/through Garmisch, the famous city for international skiing stadium for ice and snow games and sports. We reached Augsburg by about 5:00 pm. Just when we reached the town, the car engine started giving peculiar noise. No garages or mechanics were available on the holiday. Martha's home was not far. We waited there. Albert phoned the manager of Austin dealership in this town. The manager was his personal friend. He opened his garage to repair Albert's car. Albert returned at about 7:00 pm. Martha introduced me to her parents. We took coffee and passed time talking and watching TV.
I asked Albert to drop me at the railway station. But he insisted to leave me in his car. It was about 100 miles and about a little more than one hours drive. We reached there by about 9:00 pm.
"Noch Eine" (One more)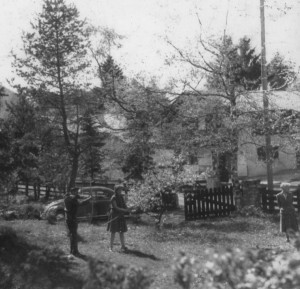 One Saturday afternoon after lunch, I was doing some home-work. Many students had gone to visit some church. After finishing my home-work I went out for a walk. At the end of our village there was a beautiful bungalow with a big garden. This belonged to a rich farmer. There were beautiful flowers. There were very tall trees all around. I saw a young girl about 13-14 years old. She was playing with a bow and arrows. She had several arrows. There was a target board at a distance of about 15 feet. I was just watching from a distance. Only one or two arrows would hit the target. Others all would go astray. After exhausting all the arrows, she started collecting the arrows. At this point I entered the game and also started collecting arrows. As soon as she found one arrow she would shout "noch eine". This meant "one more". When I found one, I also started shouting "noch eine"! meaning "another one". Then she found one more and shouted "noch eine"! So it went on. We searched for the arrows shouting "noch eine".  I will never forget that Saturday afternoon, shouting "noch eine", with a German maiden, in a garden surrounded by tall trees, in Alps Mountains.
Conclusion
My stay in Goethe Institute, Kochel am See. was very valuable. It was not only one language that I learnt there. I learnt so many valuable virtues of friendship. I learnt many aspects of life. I understood and enjoyed "universal brotherhood". Each person who was a stranger till then, became a close friend for a lifetime of memories. The vast dimensions of life (time) and the farthest city of Antofagasta (space) became very near and dear. I comprehended this vastness of time (life) and space. Each person has a very different personality and yet has the basic character of human beings, that is friendship. I experienced and enjoyed this beyond imagination. It is difficult to express this in words.