My training ended by end of October. We bid "auf wiedersehen", good bye to Bad Neustadt. We came to Nurnberg and stayed at the Siemens hostel. I made arrangements of our return journey to Mumbai through a travel agent recommended by the Siemens office. It was as follows:
Nurnberg to Ostend – a small port in Belgium – by train.
Ostend to London port by a ferry boat – (like 'bhaucha dhakka" in Mumbai), across the English Channel.
London port to city of London by train.
3 days stay in London.
London to Mumbai by P & O steamer SS Stratheden, leaving on 7th Nov.
Arrival Mumbai port 24th Nov. 1961. (Chandra's birth date).
By this time my financial position was poor. When I purchased the car, it was known that there was good resale value. This reselling was a regular practice. I sold my car for 700 D.M. (I had purchased for 1100 D.M.). It was planned that this money would see us through, till we arrive in Bombay.
Nurnberg to London
On 2nd Nov. Thursday morning we said auf wiedersehen to Nurnberg. We passed Aachen, the last big city near Belgium – West Germany border, in the evening. We were to cross the border into Belgium. Here the border police officer came to check our travel papers. The officer did not find a visa for Belgium on our passports. So we were asked to get down from the train. The officer said that a valid transit visa was necessary for transit passengers also. My travel agent in Nurnberg had very clearly told me that a visa was not necessary for transit passengers. We were through passengers. The Belgian officer refused our entry. He advised/ordered us to get down and to go back to Aachen. There is an office for issuing transit visas. He gave us the address. He made us get down from the train at the next station. He then put us on a returning train to Aachen. By the time we reached Aachen it was night. All the offices were closed. We were given accommodation in the passenger waiting room. This was a small room with a good heating system.
All of a sudden Chandra started crying! I tried to calm her down. I asked her, what was the reason for crying? She took some time to calm down. She said that her golden ring with an oval green stone (emerald) was missing. She was combing her hair in the train, when the border officer came. She had removed the ring and had put it on the side-table near the seat. In hurry and nervousness, she forgot about the ring while getting out of the train. I said, we should report this to the station master. We went to his office. I gave him all the details of what happened. He contacted the train driver on the phone giving relevant details about the golden ring. After some time he got a reply from the train. A golden ring with a green stone was found. The ring would be deposited in the station office the next day, when the driver returns to Aachen. Next morning we could not wait for the ring. We hired a taxi and went to the visa office. Obtaining a visa was very fast. We immediately boarded the next train to Ostend. Perhaps that ring might be still there in the Aachen station master's office!!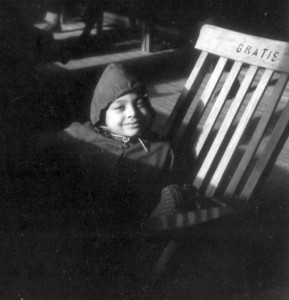 The ferry service from Ostend to London was round the clock. The sea in this part of the English Channel is rough. There were proper resting facilities and cafeteria on the board. We were advised to take light food only. We ordered tea, coffee and biscuits. We had just started our breakfast. A strong wind started blowing. The boat started rocking. The plates and cups slid from one side of table to the other side! Our food slid in front of some of the passengers! There were announcement that a light storm is expected. Passengers were advised to go to lower decks where arrangements were made for resting. Some seasickness medicines were distributed. Chandra was feeling seasick. She took the medicine and she went down to rest. After a few minutes of strong winds the storm was becoming weak. Ameet and I were not affected by the storm. We had no seasickness.  We went to the upper deck. We enjoyed walking there. There were very few passengers on the deck. There were three British Air Force officers and two other passengers. Slowly the storm died away. Other passengers also came on the deck. Ameet was noticed by many passengers, particularly the ladies! Soon we reached London port. The storm had died completely. The railway platform was within walking distance. We walked to the train. Many passengers came to meet Ameet. They congratulated Ameet for his bravery to be on the upper deck in the storm. Some ladies even offered him chocolates! Some wanted to sit near him in the train.
London
London always has been an expensive city. My father had a friend, Mr. Shethia in London. He was a well-settled businessman. My father had written to him to make arrangements for my stay in London. He had confirmed that the necessary arrangement was done. He had asked one of his (Rajasthani) employees to look after my needs. This was the most unfortunate thing to happen. Mr. Shethia's man had arranged for our stay with some Patel family. It was a small, old, two-storey house. The heating system was not working properly. The doors and windows were loose. They could not be closed properly. The furniture was old. The bed was old. The bed covers, the bedsheets and the blankets were not clean. It started raining in the evening. It was a storm. The wind was blowing very strongly. The temperature went down very fast. It became very cold. It was a nightmare to pass the night under such conditions. I decided to change over to a comfortable place in the morning.
Chandra remembered that her father had given us the name, address and telephone number of an Englishman, a bank manager working with a London bank. My father-in-law had worked as a senior manager in an English Bank in Rangoon before the 2nd World War. He had taken premature retirement for health reasons. He had settled in Bhuj. He was very efficient and very popular in his bank. He had continued his friendship with his bank colleagues. He knew very well one of the bank managers in London. We contacted the bank manager by telephone. I introduced myself. He was very pleased. I described to him my problem. I requested him to arrange for a hotel room. He assured me that he would arrange for a comfortable but not expensive hotel. Within an hour we moved to a good comfortable but not expensive hotel in the same area. We could not meet the bank manager. He was busy with his engagements. I thanked him on the telephone.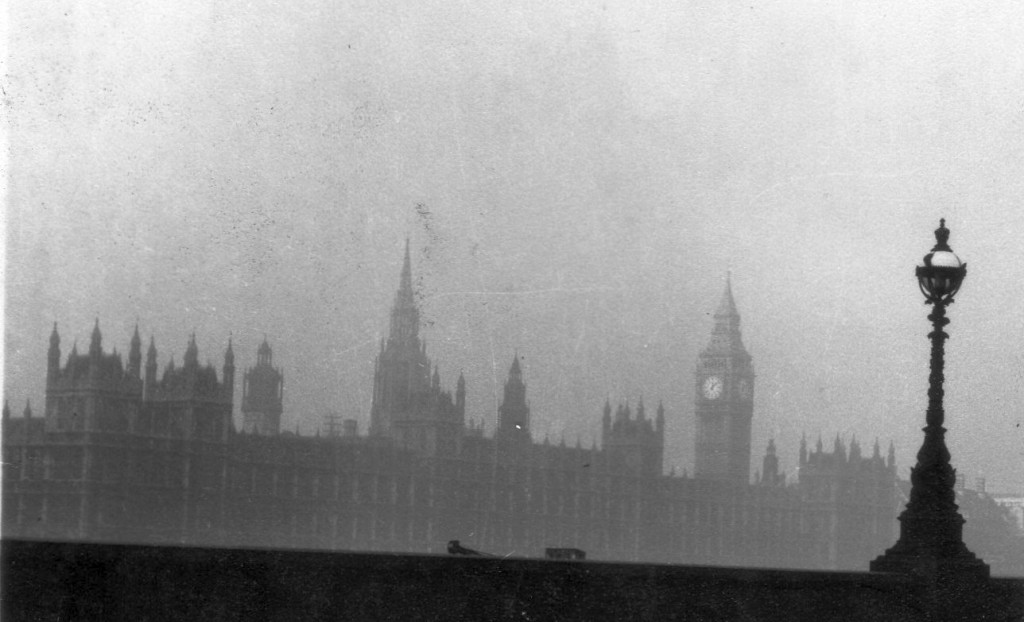 The weather improved. We made plans to see London. Several tourist buses were available for "London Darshan". We took certain buses and went around. London has a very elaborate local railway system. It is a little difficult to understand the whole system. But, once you understand, it is easy to go from any one suburb to another. Food was no problem. There were many restaurants serving good vegetarian food. We had a very busy four days. There are many museums in London. It takes hours and hours to see them. One has to walk through several lobbies, compounds, gardens, 2, 3, 4 or more floors. We enjoyed. We were tired.
Return Voyage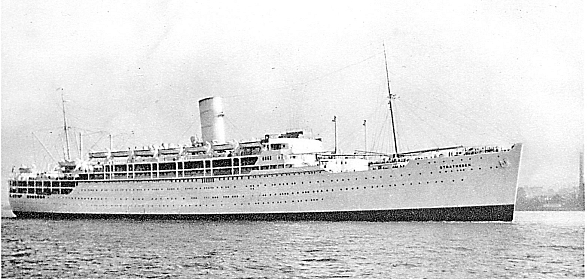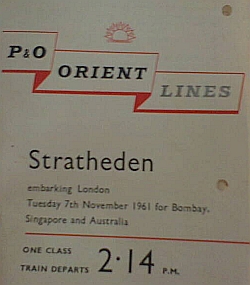 On 2nd Nov. 1961 morning we boarded the P & O steamer SS Stratheden. It was a big air-conditioned steamer. There were several decks and several halls for different activities. There were two swimming pools, a restaurant and a bar. This was a bigger, much more comfortable and luxurious steamer compared to the Conte Grande. There were four decks and two cabin floors. Our cabin was very cozy and comfortable. Every morning, menu cards for breakfast, lunch and dinner were printed and were distributed to passengers on the breakfast table.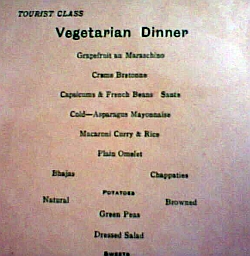 Daily there were separate and different veg. and non-veg. menus. The food was good. They had good Indian cooks on board. Varieties of snacks were served with the afternoon tea. Dry fruits were distributed after dinner. Children had early dinner. They were compelled to go to bed at 7 pm. They were given many toys to play with. But they were unhappy about early dinner. Daily, there were varieties of entertainment programs and games for adults and children. Every evening after dinner the passengers went to the ballroom for recreation. This was open up to midnight.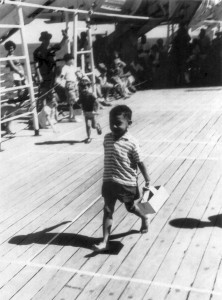 There were other activities. Chandra found herself lucky in the horse race, frog race and dog race. We liked walking around all the decks. We explored all the way up to the top deck. Here all life boats were kept ready for any emergency. Ameet liked to count them. In one of the children's quiz program a question was asked, "how many life boats are there on the steamer?". Only Ameet could give the correct answer. He won a prize. Once there was a fancy dress competition. People could borrow a variety of dresses from the steamer wardrobe kept in the ballroom. I dressed like a Mexican cowboy. Chandra dressed like a village woman from Gujarat.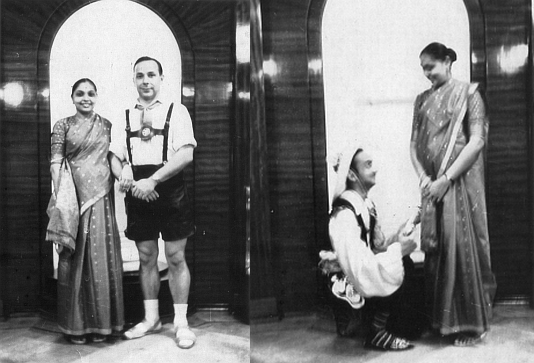 This was a real vacation. The whole experience was of happiness and joy. All things were arranged. There was no planning to be done. There were no problems, no anxiety – just enjoyment.
Our sea route was as follows. We left London and sailed due south into the English Channel. We passed by the coast of France and entered the Bay of Biscay. Further down south we entered the Atlantic Ocean. We passed by Spain and Portugal. The southern most point was Gibraltar. Here the Atlantic Ocean meets Mediterranean Sea. We turned eastward almost at a right angle leaving the Atlantic Ocean and entered the Mediterranean Sea through the Strait of Gibraltar. We sailed due east.
Our first port of call was Athens, the capital of Greece. We were informed that bus trips were arranged by the steamer company. We went around the modern city of Athens. Then we went to see the ruins of the old Greek civilization – the old city of Acropolis which contains the temple of Parthenon. We had a comfortable bus sightseeing tour. The ancient structures are huge, majestic, very beautiful and a symbol of art. The old Greek civilization was one of the most advanced ancient civilizations.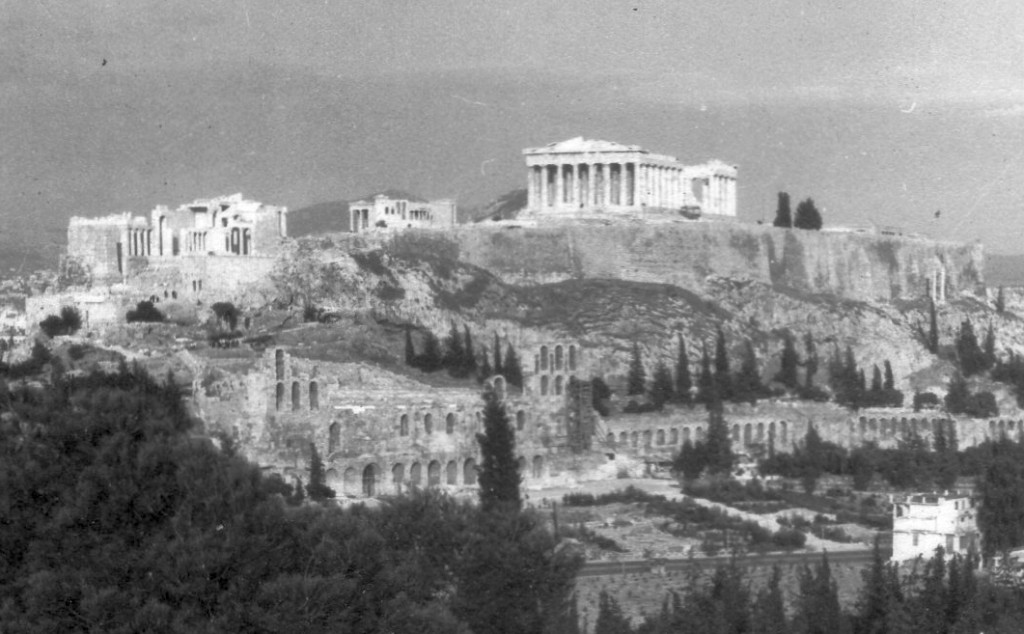 During this one eventful year I visited the ruins of three ancient civilizations:
Pyramids – Egyptian
Remains of Vesuvius – Roman
Acropolis and Parthenon – Greek
Our next port of call was Port Said. Here the steamer went through the "lock" system of Suez Canal. After passing through the canal, we entered the Red Sea.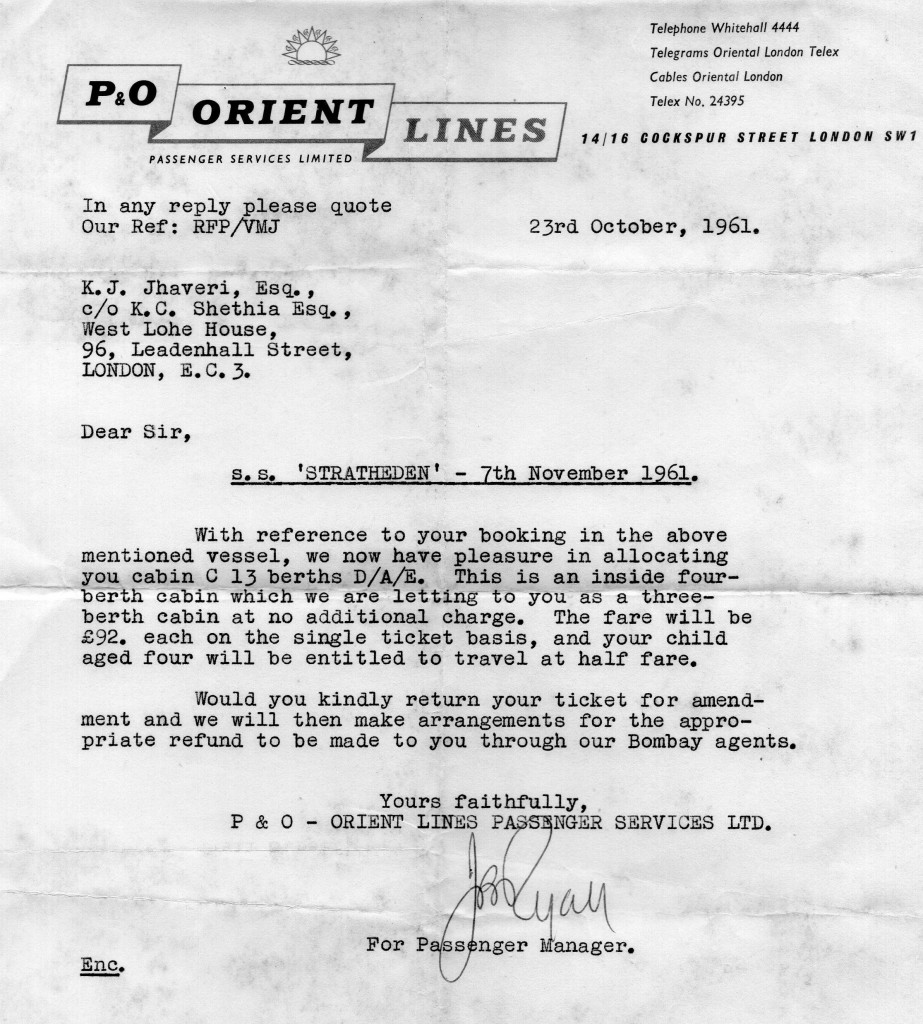 Next and the last port of call was Aden on the Arabian peninsula. The steamer had to anchor in the deeper sea. There were ferry boat services to go to the port. In those days, Aden was a flourishing duty-free business center. Many Indian merchants had established business in Aden. It was announced on the public announcement system, that the stopover would be for six hours. Ferry boat services were organized for passengers. Hearing this, we joined the queue for a ferry boat. Here we heard one more announcement. "Special ferry boat service is arranged by Mr. Shah, the manager of the Bank of … for Mr. Zaveri and family. Please contact Purser's office". We found to our surprise that we were given royal treatment. This was done by my father-in-law. He had a very close friend as a general manager in a very reputed bank in Aden. My father-in-law had informed him about all the details of our journey. We were given VIP treatment in the purser's office. We boarded a special exclusive ferry boat to reach the shore. There a car took us to the residence of the bank manager. We were guests of honor in the roles of a daughter, a son-in-law and a grandson. We had a typical grand Gujarati lunch. Ameet was very happy to get Gujarati food after several months. He requested his mother if we could stay there a few days more! The food was very much to his liking. We rested for a while. Then we went for shopping. We were treated well. We purchased many things such as gifts, etc. for all family members.
BOMBAY – MUMBAI
We had entered the Arabian Sea. Our next and the last port of call was BOMBAY. On the morning of 24th Nov. 1961 an announcement was made on the public system, that we would reach the port of Bombay in the afternoon. After lunch passengers should keep their baggage open to be checked by the customs officers. 24th Nov. was Chandra's 25th birthday. On our lunch table there was a birthday greeting card sent from the captain's office. Also, there was a birthday cake. The two old ladies on our lunch table along with the other passengers joined to greet Chandra.
Customs and other formalities were completed fast. The whole family had come to welcome and greet us. Ameet was the happiest person.